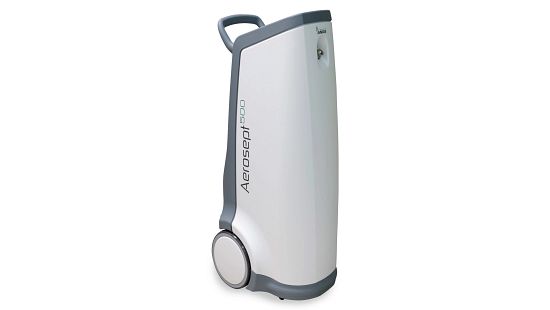 Aerosept 500

Airborne disinfection device

Automatic atomiser for use with Aseptanios AD, for airborne disinfection of previously cleaned surfaces.
Product Details
Treatment capacity: Rooms up to 300m3
Fully automatic process with touch screen panel, remote control and delayed start function
Our patented venturi system ensures a constant flow of product
Cycle tracking conveniently available on a USB drive
Quickly track compliance by scanning rooms and operators with a barcode reader
Compliant with NF T72-281 (2014)
Application
Automatic atomiser for airborne disinfection of previously cleaned surfaces.
Use with: ASEPTANIOS AD
Bactericide and yeasticide in 30 min
Mycobactericide in 120 min.
Fungicide and sporicide in 120 min
Virucide in 30 min†
Conditions of use: 7ml/m3, 20°C
† For rooms up to 150m3
Instructions for use*
Place the unit in a corner of the room
Switch on by selecting the operating mode
Identify the room and the operator
The unit will automatically calculate the diffusion time
The time the cycle will end is displayed
Delayed start allows the operator to leave the room before treatment begins
The unit will automatically stop at the end of the cycle
Ventilate the room (nine air changes)
* Refer to the operating and technical manual for the full process.
Technical characteristics
Chemical capacity: 5L container
Nominal flow-rate: 1L/hour
Empty weight: ≈ 32kg
Dimensions: 900mm H x 350mm L x 400mm W
Power supply: 240/110 V – 50/60 Hz – 5 A
Storage
The products used in this device are dangerous - observe the precautions on the label of the product.
Storage of product: between +5°C and +25°C in vertical position.
Use biocides safely.
---
For professional use only.
---
Please read label and product information before use.
---