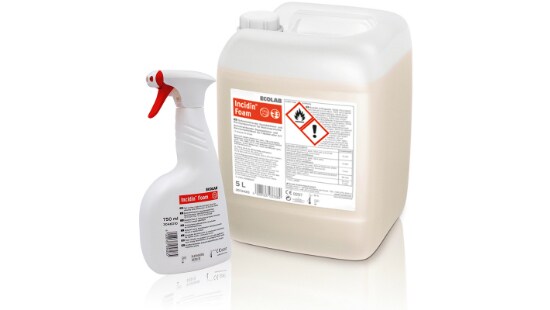 Incidin™ Foam
Glucoptrotamine based ready-to-use surface cleaning and disinfection foam spray
The ready-to-use surface cleaning and disinfection foam spray combines extremely short contact times with the properties of a gentle cleaner. Through its excellent foam application, it creates an additional reliability for the user.
Product Details
Incidin Foam provides:
Broad efficacy spectrum
Excellent foaming
Pleasant odour
Compatibility with Incidin Dry Wipes System
Why Use Incidin Foam?
Our performance
Your advantage
Broad spectrum efficacy
Effective against bacteria (incl. TB), yeasts and various viruses, Incidin Foam is also suitable for a wide range of surfaces including high risk areas.
Cleaning and disinfection in one step
Providing the efficiency of cleaning and disinfecting in one step, Incidin Foam also offers many other user benefits.
Reliable use
Being ready-to-use, Incidin Foam is very simple to apply and its excellent foaming application guarantees no formation of aerosols.

Due its extensive material compatibility on most surfaces, Incidin Foam gives the assurance of excellent results in a wide variety of application areas.
Please see sell sheet for ordering information.
For more information: please refer to the product label/SDS.
---
---

0297
---
Use biocide products with caution. Always read the label and product information before use. For professional use only.