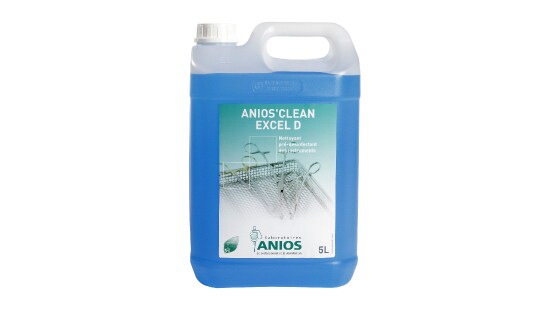 Anios Clean Excel D
For the cleaning and disinfection of surgical and medical instruments.
Product Details
Patented concept
Original combination of active substances in synergy
High level of detergence demonstrated
Non-corrosive, compatible with a broad range of materials
Application area
Cleaning and disinfection of medical devices: surgical and medical instruments, heat-sensitive instruments and endoscopy equipment, before sterilisation.
Instructions for use
Dilution at 0.5 %: Pour a 25 ml dose per 5 litres of cold or tepid water. Renew the soaking bath once a day at least.
Totally immerse medical device. Soaking time: 15 minutes. Brush if visible soiling is present. For endoscopic equipment: brush channels.
Thoroughly rinse treated medical devices with tap water (good microbiological quality) to remove all traces of product and organic soiling. For endoscopic equipment: rinse internal and external parts.
Dry with a clean towel. Proceed to the next step (see protocol established by the service).
Ingredients
Didecyldimethylammonium chloride, chlorhexidine digluconate, non-ionic surfactants, perfume, colouring, excipients.
Storage
Dangerous – respect the precautions for use (drawn up according to the European rules in force regarding the classification and labelling of chemical products). Storage: between +5°C and +35°C.
Products characteristics
Detergent and disinfectant designed to reduce the risk of surface biofilm formation on medical devices
Broad antimicrobial spectrum to limit the risk of cross-contamination and ensure the safety of personnel
Antimicrobial efficacy demonstrated, including on MRB and HRB
Formulation active in fresh and hard water
Formulation non-corrosive and compatible with a broad range of materials
Improvement of the ecotoxicological prole: GHG* emissions reduced by 47% relative to a similar product
Good rinseability
Can be used in an ultrasound cabinet
Clear blue solution
Pure product pH: min. 6.5 - max. 7.5
pH at 0.5% in mains water: 7.4
Lemon fragrance
Microbiological Properties
CLAIM/CONDITIONS
CONCENTRATION %
CONTACT TIME
Bactericidal
According to EN 13727 and EN 14561
According to EN 13727 against MdRB

0,5
0,5

5 min
15 min
Mycobactericidal
According to EN 14348 and EN 14563 (M. terrae)
2,0
60 min
Yeasticidal
According to EN 13624 and EN 14562
0,5
15 min
Virucidal
PRV (surrogate of HBV), BVDV (surrogate of HCV), Herpesvirus, Vaccinia virus, HIV-1
0,5
5 min
Medical device.
---
Please read label and product information.
---
For professional use only.
---

0459
See Other Products for Disinfection and Cleaning of Your Instruments