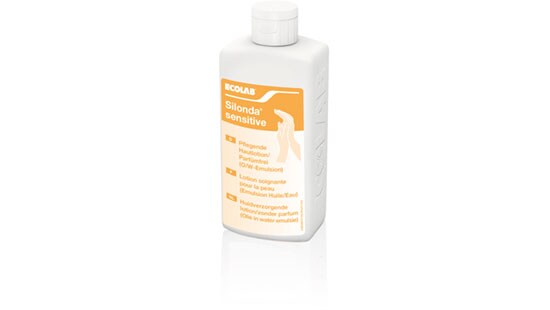 Silonda™ Sensitive
Silonda™ sensitive is light lotion formulation recommended for frequent use throughout your work day. Your skin will feel well hydrated, protected and refreshed.
Product Details
Light water based formulation for easy absorption
Carefully selected ingredients to protect and regenerate the skin's natural barrier
Formulated to keep skin well hydrated
Dermatologically tested
Fragrance and dye free
Developed for the needs of the healthcare professional and NHS approved
Instructions for Use
Recommended for use at the start and end of the shift as well as at break times. Silonda™ Sensitive should always be used on clean hands.
Recommended for use with Seraman™ Sensitive and Seraman™ Soft.
Skin Care
If you are washing your hands regularly, your skin is at risk from the drying effects of the detergents used in cleaning products.
Damaged hands are not only unpleasant for you but can mean washing is less effective at removing germs1.
Using a non-greasy moisturiser such as Silonda™ Sensitive will help protect the hands from the drying effects associated with the frequent use of hand hygiene products within the healthcare environment.
1. Larson, E. (2001), Hygiene of the Skin: When is Clean too Clean? Emerging Infectious Diseases; 7 (2): 225-23 
Ingredients:
Aqua, Paraffinum Liquidum, Propylene Glycol, Palmitic Acid, Steric Acid, Triethanolamine, Carbomer, Cera Alba, Methylparaben, Propylparaben
Shelf Life:
30 months