Vari-Lens2™ Microscope Equipment Drapes
Inspiring confidence in microscope draping with improved visual accuracy Vari-Lens2™ maximizes resolution, minimizes glare and safely maintains the sterile barrier. Surgeons can now enjoy a new level of confidence and performance with these microscope drapes.

*Note: Medical devices advertised here may not have been licensed in accordance with regional regulations or country specific (e.g. Canadian) laws.
Product Details
| Part No | Description | Size | Quantity/CS |
| --- | --- | --- | --- |
| 6100VL2 | Microscope Drape, Zeiss® with Vari-Lens2™ | 122 x 305 cm | 10 |
| 6110VL2 | Microscope Drape, Zeiss® with Vari-Lens2™ | 122 x 203 cm | 10 |
| 6120VL2 | Microscope Drape, Zeiss® with Vari-Lens2™ | 132 x 381 cm | 10 |
| 6130VL2 | Microscope Drape, Leica® with Vari-Lens2™ | 117 x 305 cm | 10 |
| 6140VL2 | Microscope Drape, Leica® with Vari-Lens2™ | 132 x 406 cm | 10 |
| 6150VL2 | Microscope Drape, Leica® with Vari-Lens2™ | 117x 203 cm | 10 |
Vari-Lens2™ Comparisons


See how the Ecolab Vari-Lens2™ maximizes resolution, minimizes glare and safely maintains the sterile barrier: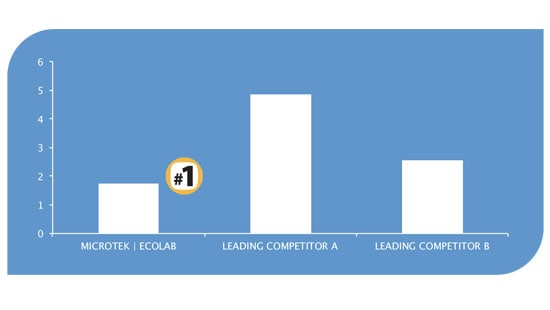 #1 in Spectral Reflectance (glare)