Building a Water-Resilient Future
How organizations can take action to avoid water-related risks and advance sustainability goals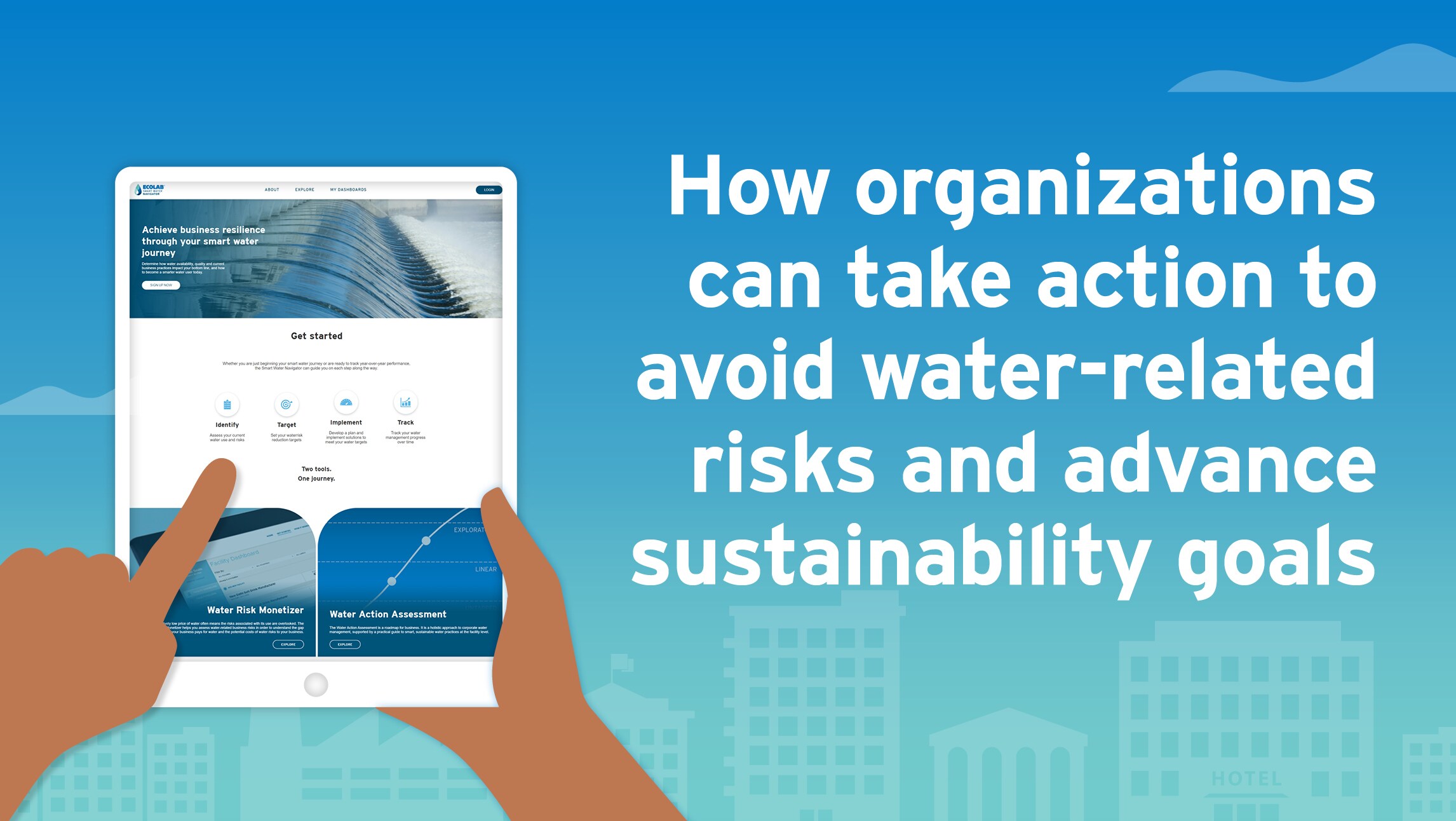 Caption: How organizations can take action to avoid water-related risks and advance sustainability goals.
One of the many things we've learned in the past year is to expect the unexpected, starting with the disruptions from the COVID-19 pandemic. In order to survive in our constantly evolving world, businesses need to be able to adapt to weather the storm and mitigate our risks.
And a big risk that continues to grow for most businesses relates to how they use water. A lack of available freshwater poses significant operational risks to businesses, including increased operating costs, supply chain interruptions, growth constraints and damaged brand reputations.
That's why, earlier this week on World Water Day, we launched an innovative, free online tool aimed at empowering organizations to move toward a more water-resilient future.
Ecolab's enhanced Smart Water Navigator is the latest evolution of an ongoing effort to help companies reduce water and energy use and associated costs, providing a roadmap for sustainable water management. The launch couldn't be timelier, with predictions of a 56% shortfall in freshwater expected by 2030 if practices don't change, according to a report from the World Resources Institute. That's up from an estimated 40% shortfall predicted by the U.N. just five years ago.
As the gap between freshwater supply and demand grows, corporate action and urgency have not kept pace. The enhanced Smart Water Navigator empowers companies to begin their smart water management journey by taking meaningful and measurable steps to reduce water use that will not only help their operations, but also make them responsible stewards of their communities' watersheds.
Knowing where to start
Though many companies set ambitious water goals, they often fail to turn these goals into action. And this is likely because of a disconnect between how goals are set and who is tasked with achieving them. In a survey of companies with at least $1 billion in annual revenue that we conducted with GreenBiz, 65% of respondents said that the sustainability or corporate responsibility team is responsible for setting water targets and goals. But 95% said that the responsibility for achieving those goals lies at the facility level, and 45% said they lack measurement and management tools to support this work.
Our Smart Water Navigator can help bridge this gap between goals and real results, guiding users through four stages of reviewing and updating their plans to achieve water targets:
Identify
Sometimes an organization's water risk can feel abstract, which allows people to deprioritize it. As a first step, the Smart Water Navigator helps businesses understand the full, financial value of water in their operations, within the context of their surrounding communities and local challenges they may face (like population growth or health crises). Companies can use the tool to identify water's role in their operations, evaluate current use and quantify financial water-related risks.
Target
The next step involves setting sustainable water withdrawal targets that are based on local water stress conditions. So, a facility could understand their unique water stress and the tool will provide customized absolute water targets for that site.
Implement
At this stage, businesses receive a practical, industry-specific guide to implement solutions that will improve their water management practices. The guide includes best practices, management processes, key performance indicators, and suggestions for how to drive accountability for intended outcomes.
Track
The last stage involves tracking progress over time, so companies can see if their practices are supporting progress, or if action plans need to be revisited. Whether businesses are just beginning to identify their baseline water use or are tracking year-over-year performance, the Smart Water Navigator provides the data they need each step of the way.
Water's broader impact
Water is an important connection point in our lives; and is integral to healthy operations and communities. We know that there's work to be done to protect this valuable resource and the enhanced Smart Water Navigator is a great way for businesses to take steps toward a more water-resilient world.
Get Started with the Smart Water Navigator