Cybersecurity Awareness Month: How Ecolab Continues to Commit to Cyber and Digital Security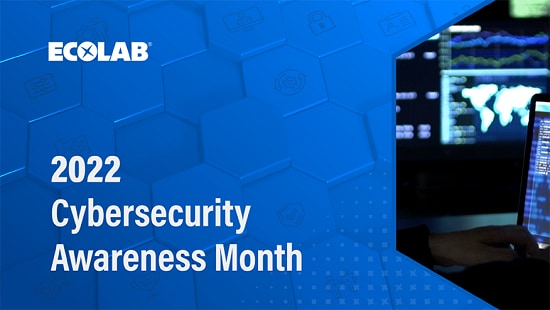 October is Cybersecurity Awareness Month, begun by the National Cyber Security Division of the Department of Homeland Security and the nonprofit National Cyber Security Alliance, to raise awareness about the importance of cybersecurity. For Ecolab, it's an opportunity to reflect on the role cyber and data security plays in enabling the company to drive innovation and enhance customer outcomes through digital enhancements.
To discuss Ecolab's cyber and data security culture and its impact on the company's digital solutions, David Bingenheimer, Ecolab's Chief Information Officer, sat down with Chief Information Security Officer, Karine Semmer.

David: Karine, you bring a variety of experiences to your role leading our Information Security efforts. Tell us a little about your journey.
Karine: My degree is in technology management information systems, but prior to that I was in the Air Force for four years within the telecommunications space where I led a team responsible for maintaining mission-critical communication systems. After leaving the Air Force, I worked at a multi-national consumer food manufacturer in business analyst and information systems leadership roles. I had the opportunity to then lead mergers and acquisitions for a large medical device company before also consulting in the information security space. This path brought me to Ecolab, leading the cybersecurity team. And I can safely say this role is one of the most exciting job opportunities I've had across my 35-year career.


David: Ecolab integrates digital technologies to connect with our customers, supply chain and employees – regardless of where they are in the world. As we become more digitally connected, can you share how cybersecurity plays a role in this space?
Karine: As you mentioned, our company is continually innovating to deliver digital expertise and solutions for our customers while improving existing processes and operations for Ecolab. However, as we increase our impact through digital, the opportunities for cyber threats also increases.
Generally speaking, the need for cybersecurity protections was sometimes viewed as a roadblock to growth and innovation. What I've found at Ecolab is an understanding and appreciation for the cyber and data security framework in fueling growth and innovation, ultimately creating value for our customers and company. With this strong commitment to protecting customer and company data, I'm encouraged and excited about where we are heading in terms of digital growth and the continued opportunities for our cyber and digital teams to support new and innovative solutions for our customers and business partners.

David: In cybersecurity, creativity and collaboration are two major components to deliver meaningful solutions for the company and our customers, which requires diversity in thought, experience, culture and geography. Can you talk about the importance of prioritizing diversity and the impact that's had on your team?
Karine: Diverse perspectives and experiences are essential to the success of our team, and we have a team of incredibly talented individuals with varied backgrounds and skillsets. For example, we have team members who were teachers, recent college graduates and individuals who held sometimes unrelated roles within Ecolab. Each bringing a different skillset and a different way approaching the work, which allows us to deliver the strongest possible outcomes for all.