First-in-a-Generation United Nations (UN) Water Conference Reinforces the Vital Role Businesses Have in Water Action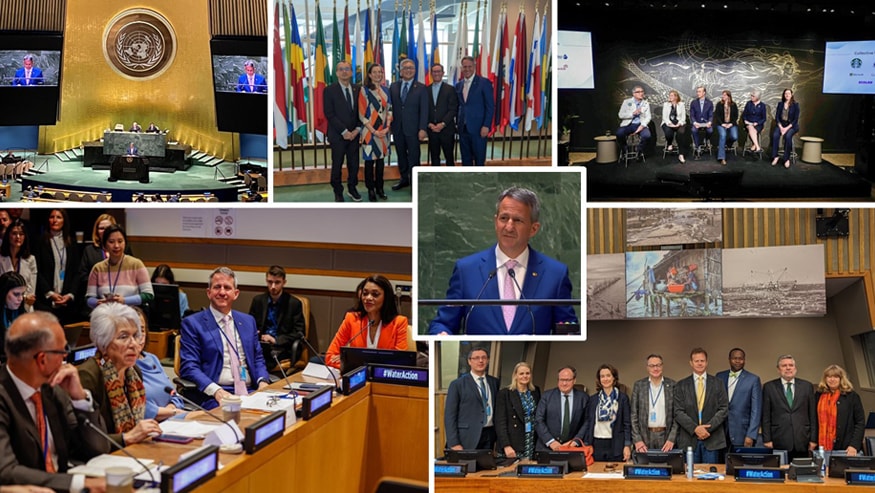 Amid an intensifying water crisis, world leaders gathered in March 2023 to catalyze a global response to the looming threat of water scarcity at the historic UN Water Conference, the first gathering of its kind since 1977. Not only did the conference represent a watershed moment for the world, but it also gathered the world's leading companies, including Ecolab, to advocate the impact that the business sector can have on the world's water use.
New data from a Water, Sustainability and Climate Change survey conducted by Ecolab consulting thousands of consumers across eight different countries revealed:
74% of consumers believe businesses should make conserving water a high or essential priority;
Just 25% of consumers believe companies are taking the right amount of action to conserve water; and
More than 60% of consumers said that they or a family member have had trouble accessing drinking water.
Consumers are sending a message loudly and clearly – if business leaders aren't prioritizing water stewardship, they aren't doing enough. Ecolab's work this past year to help protect the resources vital to life shows that it's possible to advance sustainability and business growth goals all at once. And our leading efforts at the UN Water Conference are prime examples for how businesses can make a difference:
We participated in the Open Call to Accelerate Action on Water, joining other private sector companies in a commitment to make a collective positive impact in 100 basins supporting over 3 billion people by 2030 – a key contribution to the UN's Water Action Agenda.
We joined Starbucks, Gap, Inc., Reckitt and DuPont and the U.S. International Development Finance Corporation in investing nearly $140 million in the WaterEquity Global Access Fund IV. The fund aims to reach up to 5 million people with access to water, sanitation and hygiene and targets households of at least eight countries in South and Southeast Asia, sub-Saharan Africa and Latin America.
We affirmed our commitment as a founding member of the Water Resilience Coalition (WRC) to work collectively to achieve Net Positive Water Impact through public/private partnerships, policy, technology and a roadmap to reach the WRC's goals for 100 priority basins by 2030.
The UN Water Conference was a catalyzing moment for addressing the water crisis—but the hard work is only just beginning. Ecolab will continue to do our part to close the water gap and help our customers—who manage 1.1 trillion gallons of the world's water—become a positive force for water resilience around the world.