Ecolab's 2030 Impact Goals Advance Sustainable and Productive Operations to Help Industry Achieve Greater Purpose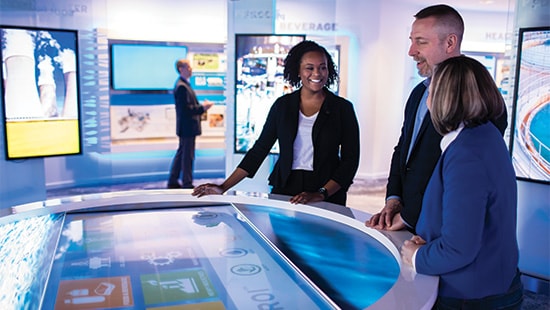 New goals will drive further ambitious progress on water, carbon, food safety and public health
ST. PAUL, Minn.--(BUSINESS WIRE)-- By 2030, there will be an additional billion people in the world, placing greater demand on natural resources. To help companies sustainably address growing demand, Ecolab Inc. has launched its ambitious 2030 Impact Goals to significantly increase the company's positive impact within its own operations and through its work with customers. Ecolab's new impact goals were launched with the recent release of its 2019 Corporate Sustainability Report, entitled Partners for Greater Purpose, which also highlights Ecolab's work with leading companies to advance environmental and operational outcomes.
"The next 10 years represent a crucial opportunity to reach higher and further demonstrate our sustainability leadership. Ecolab has the ability and the responsibility to drive change in the world, both within our company and through our work with our customers and our communities," said Ecolab Chairman and CEO Douglas M. Baker, Jr. "With these 2030 goals, we will help our customers meet their ambitious sustainability goals, accelerate efforts within our own operations, expand our approach to product sustainability, support diversity and inclusion, and live our values within the workplace and the community."
Through its work for customers, by 2030, Ecolab aims to help industry:
Conserve 300 billion gallons of water annually, equivalent to the annual drinking water needs of 1 billion people
Become carbon neutral by reducing greenhouse gas emissions by 4.5 million metric tonnes, helping to prevent 7.3 million pollution-related illnesses
Provide high-quality and safe food for 1.8 billion people, helping to prevent 11 million foodborne illnesses annually
Clean 50 billion hands and provide safe medical care for 116 million people each year, helping to avoid 1.7 million infections annually
Within its own operations, by 2030, Ecolab will focus on:
Achieving a positive water impact by restoring water withdrawal and protecting at-risk watersheds where we operate
Halving carbon emissions and pursuing renewable energy, a target verified by the Science Based Targets initiative (SBTi)
Advancing our diversity and inclusion practices with a focus on gender and racial/ethnic equity and representation
Continuing to train and educate all associates to work safely
These new sustainability goals build on Ecolab's great progress to date and existing commitments, including its alignment with the U.N. Business Ambition for 1.5°C, the Water Resilience Coalition and its virtual power purchasing agreement with renewable energy producer Clearway, which will offset 100% of Ecolab's annual electricity use in the United States.
Learn more about Ecolab's 2030 Impact Goals and 2019 sustainability progress at Ecolab.com/CSR. Ecolab's 2019 report, the company's 13th annual corporate sustainability report, was developed in alignment with the Global Reporting Initiative's (GRI) G4 core guidelines. The report summary and complete GRI Index are available at Ecolab.com/sustainability.
About Ecolab
A trusted partner at nearly three million commercial customer locations, Ecolab (NYSE:ECL) is the global leader in water, hygiene and infection prevention solutions and services. With annual sales of $13 billion and more than 45,000 associates, Ecolab delivers comprehensive solutions, data-driven insights and personalized service to advance food safety, maintain clean and safe environments, optimize water and energy use, and improve operational efficiencies and sustainability for customers in the food, healthcare, hospitality and industrial markets in more than 170 countries around the world. www.ecolab.com
Follow us on Twitter @ecolab, Facebook at facebook.com/ecolab, LinkedIn at Ecolab or Instagram at Ecolab Inc.
(ECL-C)
View source version on businesswire.com: https://www.businesswire.com/news/home/20200715005428/en/
Amy Hahn
651-250-4724
MediaRelations@Ecolab.com
Source: Ecolab Inc.