Ecolab Community Giving Campaign South Africa:
Cape Town Fire and Charlotte Maxeke Hospital Fire Relief

Latest update: 850KG of in-kind COVID-19 packs sent to Cape Town for frontline responders and displaced University of Cape Town students. Enough to keep 136,000 hands clean and over 7,310 bottles of ready-to-use multi-surface disinfection spray solution. (4/21/21)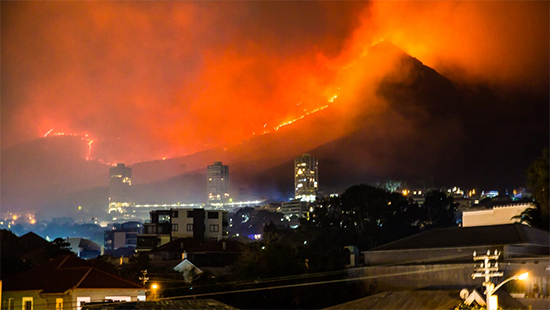 Fire on slopes of Table Mountain National Park in Cape Town April 2021 ©Twitter
Please join us in supporting those impacted by the devastation of the two uncontrolled fires in parts of Cape Town and Johannesburg, South Africa.
In addition to a comprehensive humanitarian financial and in-kind product relief package, including vital cleaning and sanitizing COVID-19 response packs, we have activated our Ecolab Employee Community Giving Campaign. Our associates were keen to help by donating to the relief effort online. We are perpetually inspired by the generosity of spirit of our teams. All donations made by Ecolab associates through our internal campaign page qualify for a contributory match from The Ecolab Foundation (up to $1,000 per donation).
You too can assist in these relief efforts which aim to help essential frontline service personnel, the University of Cape Town and students, and the displaced children from the Charlotte Maxeke Academic Hospital at the Nelson Mandela Children's Hospital to stay supported, safe, clean, and healthy as they cope.
How you can help too.
You can donate to these relief efforts online or support with essential items at the drop-off points:
Gift of the Givers at Old Mutual, 91 Jan Smuts Avenue, Pinelands Cape Town
We are thankful to our fellow community impact partners and associates for their commitment to making a positive impact, Everywhere It Matters™.
Special thanks go to The South African Chefs Association and Chefs with Compassion for triggering support with food security and on-the-ground food preparation both in Cape Town and at The Ronald Mcdonald House located at The Nelson Mandela Children's Hospital, Johannesburg.
University of Cape Town Fire April 2021 ©Al Jazeera
---
About These Disasters:
Cape Town Fire
A runaway fire started on the morning of Sunday, March 18 in The Table Mountain National Park, one of the Seven Natural Wonders of the World. It quickly spread, destroying several historical monuments, restaurants, parts of The University of Cape Town, and also encroached on several residential suburbs.
Impact so far:
Parts of historical, eminent African academic institution ravaged, including the destruction of timeless African literature and art
4000+ university students evacuated to temporary accommodation around the city, with food and other essential service needs for the immediate future
Over 160 emergency response personnel on-site (firefighters, officials, health workers)
Impact on environment, wildlife, flora, air quality
Local area, road, business, and school closures
---
Charlotte Maxeke Academic Hospital Fire
A fire broke out over the same past week at The Charlotte Maxeke Academic Hospital in Parktown, Johannesburg. Thankfully whilst no one was injured, more than 700 patients had to be relocated to other hospitals.
This vital facility is the main teaching hospital for the world respected the University of the Witwatersrand, Faculty of Health Sciences, and is closed for the next week as investigations to reopen are underway.
Impact so far:
An active academic teaching hospital in the most industrialized nation of Africa closed due to devastating fire
160 children, as well as staff and healthcare professionals, relocated to Nelson Mandela Children's Hospital. Capacity, facility, and supplies constraints
The human impact of delayed or deferred treatments and already pandemic impacted student learning opportunities
Cape Town Fire April 2021 ©Daily Maverick