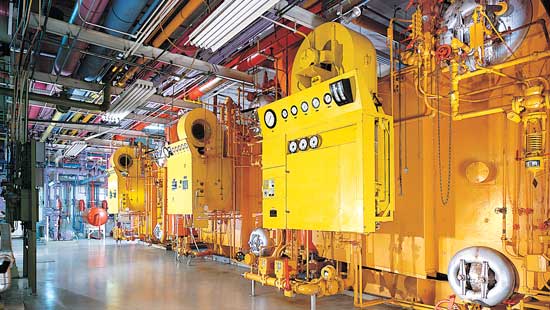 3D TRASAR™ Technology for Boilers
Powered by ECOLAB3D™
Nalco Water was built on boilers. For 80+ years, we've worked in thousands of boiler plants supporting the production of safe, reliable and cost-effective steam.
Changing conditions impact different parts of a boiler system, and they can fluctuate quickly. We designed 3D TRASAR Boiler programs to be your best defense against water-related threats to productivity and environmental targets.
Today's 3D TRASAR is smarter, more powerful and more versatile than ever before. Through Nalco Water innovation, 3D TRASAR Boiler programs deliver the deep insights and operational assistance you need to optimize your boiler performance and protect valuable equipment assets with confidence.
3D TRASAR Boiler programs offer smart sensor technology, multi-parameter monitoring and improved connectivity. Programs include advanced remote monitoring, reporting and alarming across your site with convenient access from many mobile devices.
Powered by ECOLAB3D, 3D TRASAR Boiler programs include the ability to leverage our full suite of ECOLAB3D-connected services. Our Water Quality Intelligence service, for example, offers broad visibility to drive swift, targeted response to system upsets across the enterprise. Water Quality Intelligence helps quantify the savings from water-, energy- and waste-reduction projects, too, so you can prioritize and manage your value project pipeline.
3D TRASAR Boiler programs are designed to address the increasing resource challenges our customers face, with Premium and Compact options to meet a broad range of needs.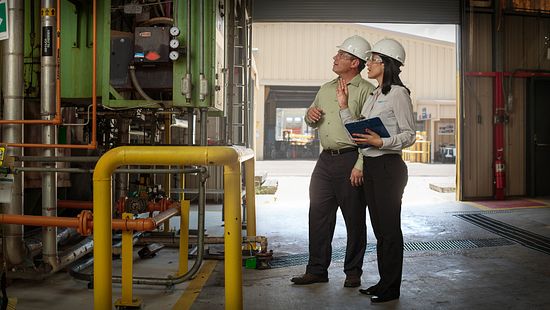 3D TRASAR Technology for Boilers Premium Program
The 3D TRASAR Boiler Premium Program is our most advanced boiler water management offering, designed to protect boiler assets in business-critical and high-stress processes.
This robust program features the Nalco Corrosion Stress Monitor, which responds to pre-boiler corrosion stress in real time, delivering the correct dosage of oxygen scavenger or passivator. The 3D TRASAR Boiler Premium Program then uses fluorescence technology to help protect against scale formation inside your boiler. As a powerful diagnostic tool, the program also identifies potential causes of out-of-spec conditions, supporting optimal performance and eROI (return on your investment) in the form of:
Water, and energy and carbon emissions savings
Optimized total cost of operation
Reliable steam production
Optimized asset life
Reduced unplanned maintenance and downtime
With the 3D TRASAR Boiler Premium Program, you can harness the power of water to advance your operational and sustainability goals. The 3D TRASAR ecosystem delivers deep performance insights to drive swift, targeted action in response to system upsets and, ultimately, contribute to better outcomes for your business.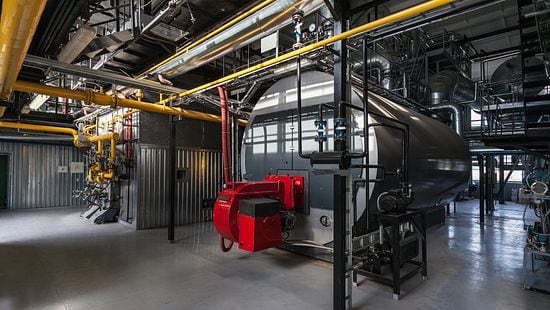 3D TRASAR Technology for Boilers Compact Program
The 3D TRASAR for Boilers Compact Program is designed to deliver essential performance monitoring. Through multi-parameter visibility, the program helps instill peace of mind that your system is running smoothly and efficiently at an optimized operational cost.
This program offers the potential for significant return on investment by enabling you to make informed decisions and respond faster to out-of-spec conditions.
Monitoring of key performance areas via Ecolab Data Collector and associated smart technology
Real-time visibility of critical operating data for your boiler system
24/7/365 remote monitoring and alert notifications by Ecolab Global Intelligence Center
Optimized total cost of operation
Assurance that operations are within specifications
Convenient access to system insights from many smart devices
Prescriptive guidance to address alarm conditions quickly and efficiently
Confidence that your boiler system has continuous oversight
Speed to action to help minimize impact and costs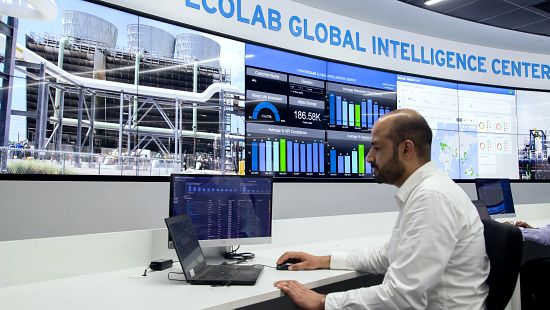 Related Success Stories
This is a carousel. Use Next and Previous buttons to navigate, or jump to a slide with the slide dots.