Expert response helps an Electric Vehicle manufacturer avoid downtime after contaminated wastewater incident
BACKGROUND
At one electric vehicle assembly plant, the manufacturer aimed to maintain paint shop productivity targets with less than 6 hours of downtime per month. To achieve this goal and maintain regulatory compliance, flexible and reliable vehicle pretreatment, paint and wastewater systems were a must.
When a valve was accidentally left open, releasing an ECoat bath into the site's wastewater treatment (WWT) plant, the stakes were high. The release contaminated the WWT batch tanks, where the ECoat bath mixed with a higher-pH waste stream. The resulting solution solidified, causing damage to piping and equipment, blocking roto strainers and backing up the system. The incident occurred during a scheduled downtime, though quick action was needed to avoid a delayed restart and prevent a potential wastewater permit violation.
In mobilizing their response, the customer wanted to both address the current problem and reduce the site's future risk. A combination of improved engineering, clear processes, training, monitoring and alarming would be needed to defend against future risk to regulatory compliance, operating costs, asset life and productivity. Additionally, the customer wanted increased visibility for their corporate Environmental Health and Safety management.
SOLUTION
Nalco Water's on-site paint booth managed operations team started by helping the customer troubleshoot the current situation. With the large influx of waste flowing to the WWT plant, some batch tanks overflowed. The team stopped transfers until room was cleared and able to take additional wastewater.

Then, Nalco Water brought in Industry Technical Consultants (ITCs), with decades of Automotive experience in ECoat and wastewater. These team members provided short-term guidance focused on getting systems back in compliance and available to continue treating the plant's waste.
Meanwhile, the Nalco Water team also developed a new operating procedure to address the customer's long-term needs. The plan included recommendations to promote safety, consistency and risk reduction.
RESULTS
Emergency actions in the wake of the incident saved several assets from severe damage, allowing those assets to be rebuilt rather than fully replaced. This helped the customer avoid US $1.2M in equipment loss and US $1.5M in equipment rental that would've been needed due to the long lead time to replace a clarifier.
Nalco Water's integrated chemistry and engineering solution allowed the customer to treat the contaminated waste on-site rather than trucking it elsewhere. This approach saved the customer approximately US $240,000 in wastewater removal costs. In addition, the program delivered more effective dewatering, reducing sludge volumes by 50 percent to help the customer save an additional US $115,000 in sludge hauling and disposal costs, and keep 500 tons of solid waste out of landfills.
Through close collaboration with Nalco Water, the site was able to safely address this major contamination incident and restart production on schedule, avoiding 36 hours of unplanned downtime.
For the customer, partnering with Nalco Water helps instill confidence that their water systems are managed safely, responsibly and reliably. For the employees, surrounding community and shareholders, this helps build trust in the customer as they continue to deliver on their brand promise of being a sustainable company.

Prevented 500 tons of solid waste generation and 600,000 gallons (2,270 m3) of liquid waste processed on-site in total
Saved 36 hours of downtime
Prevented equipment replacement and temporary rental spend of US $2.7M

Featured Solutions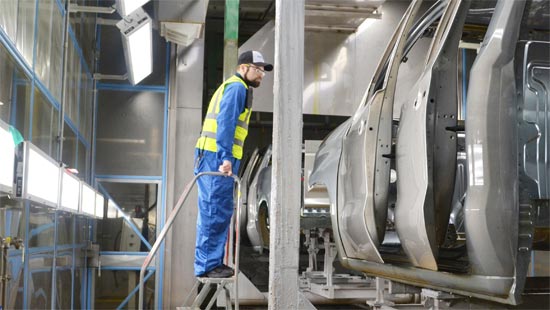 Pretreatment and Ecoat Management
Automotive Operations Management
Related Success Stories
This is a carousel. Use Next and Previous buttons to navigate, or jump to a slide with the slide dots.
No related success stories were found.