Helping Our Customers Thrive with Digital Technology
Across every industry we serve, the importance of digital technology is growing and changing the way we do business. And that growth is here to stay. In fact, the market intelligence firm International Data Corporation (IDC) predicts that by 2020, worldwide digital transformation spending will reach $1.7 trillion – a 42% increase from 2017.
So, how can Ecolab enhance our value to customers in this rapidly accelerating environment? For Ecolab, digital technology presents the opportunity to amplify our impact helping our customers provide more safe food, clean water, abundant energy and healthy environments. And, because many of our customers are looking for partners that can help them navigate this new territory, we can build better relationships.
Changing customer expectations
Our customers are looking to partners like Ecolab for insights that help improve performance and productivity and reduce their total cost of operations. They're looking for simpler work processes and intuitive experiences like we have all come to expect as consumers. Above all, they're looking for better service through deeper partnerships and expertise that provide the right context for their business needs.
Our digital journey
Using digital technology to solve problems isn't new at Ecolab. In fact, it's our decades of data and expertise about our customers and their operations that sets us apart in the marketplace. Our robust network of digital assets, global footprint and service teams gives us a competitive advantage in capturing value from digital technology.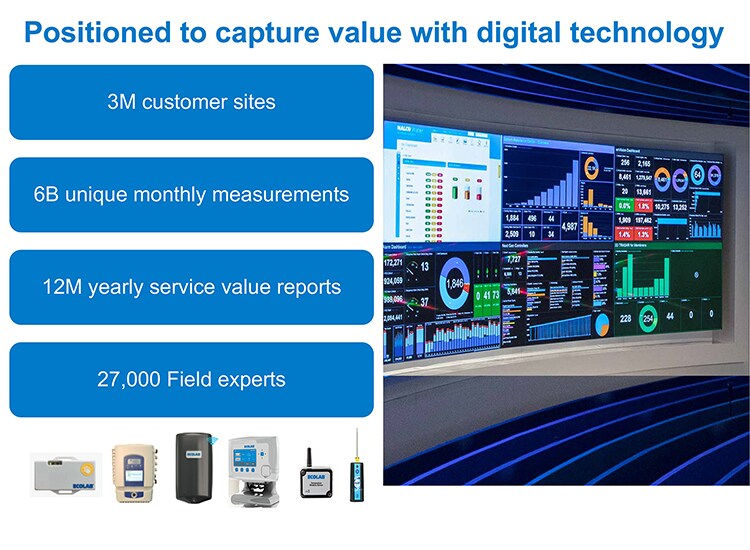 From this place of strength, we've focused on bringing our digital offerings to the next level in three key areas:
Optimizing customer performance with innovative digital solutions and insights that help to improve the bottom line.
Enhancing customer experience with digital tools and platforms that make business transactions and processes easier, increase visibility into operations and provide opportunities for deeper partnership and configuration.
Strengthening our field sales and service capabilities with digital tools and applications that make our visits timelier and more strategic and free up time for value-added work.
Driving value through digital technology starts with good data. As my colleague, Anil Arcalgud, Ecolab chief information officer likes to say, "data is Ecolab's digital currency." And, without good quality data, we cannot create the insights or the applications that help make work easier or improve the bottom-line potential for our customers.
Using our connected digital infrastructure, our teams apply advanced digital capabilities like artificial intelligence, machine learning and cloud computing to bring forward industry leading digital solutions that help Ecolab customers manage risk and compliance and help improve outcomes in food, water and hospital safety. We're already making an impact for some of our biggest customers. Here are just a few examples:
To help our quick service restaurants and food retailers manage food safety audit compliance, we developed a new comprehensive program that increases operational efficiency for food safety audits with a new intuitive mobile application. This program helps save more than two hours of working time per week, increases visibility into operations with intelligent data visualization and dashboards and provides new insights with risk scores that help our customers and field teams manage the risk of food safety issues better than ever before.
Water contaminants, like legionella, pose a huge safety, financial, brand risk to customers across our Industrial segment portfolio. Using unique data from 3D TRASAR™ Technology units, our data science team developed a model designed to identify early indicators for water contaminants. With our Ecolab Global Intelligence Center we can help customers more accurately predict and prevent outbreaks before they occur.
Learn more
See my presentation on our digital strategy and transformation at the Microsoft Executive Industry Summit.