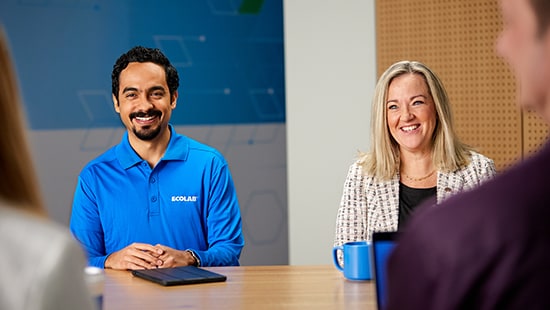 Workforce Development
We believe the success of our employees and the success of our company go hand-in-hand. Ecolab's ability to attract and retain the world's most capable talent, while deepening our relationship with existing employees, is critical to managing our operations efficiently and effectively and delivering innovative solutions for customers. We invest in professional training and development, help our employees create personal plans to achieve their career goals and conduct regular employee engagement surveys.
Learning and Development
Knowledge and expertise are core to what we do. We believe that it's essential to provide associates with continuous learning and development opportunities. As part of this commitment, we host an annual Ecolab Development Week to provide practice-oriented workshops to upgrade employee skills and advance career development.
In 2022, we held our fifth annual Development Week. Our 2022 Development Week included 324 virtual events across 33 countries with more than 7,400 participating employees.
In addition, Ecolab has a vibrant community of Employee Resource Groups (ERGs) that connects engaged, emerging leaders with professional and personal development opportunities. Our 11 employee-driven ERGs have grown to more than 6,800 members and over 80 chapters globally.
In 2022, we launched the Global Sustainability Network, an employee-led community group that works to accelerate Ecolab's growth and impact through education, communication and collaboration on environmental sustainability issues. With more than 550 founding members, the group has grown to more than 1,300 associates with representation from more than 60 countries. The network is executing on its strategic plan, focusing on three pillars: 1) Providing education on sustainability topics; 2) Enriching a strong sustainability culture; and 3) Collaborating across boundaries.

Employee Engagement

Leadership Development Programs
Performance Planning and Development

Learn More About Our ERGs: