Protecting Assets with Fast, Informed Action
INSIGHT
A large manufacturer of German automobiles has its main plant in Western India. The facility's water utility section uses a plate-and-frame heat exchanger (PFHX) application in conjunction with its cooling tower. The plant uses 3D TRASAR™ technology for cooling water in the process, and the operation is monitored by the Ecolab Global Intelligence Center (EGIC). In one incident, the plant faced an abnormal acid influx in the water line, which was detected by a support engineer at the EGIC.
INNOVATION
The EGIC engineer immediately called an Ecolab field service associate and emailed a detailed alarm analysis. After further investigation, the team learned that the cooling towers had recently undergone preventive maintenance and one sulfuric acid pump was not functioning properly. The situation was escalated to the plant maintenance manager, who took immediate action to correct the problem.
IMPACT
Because the EGIC facilitated fast and informed action within 60 minutes, the team was able to protect the plate-and-frame heat exchanger from the influx of acid. Without engagement from the EGIC, the condition would have persisted much longer, potentially causing irreparable damage to critical cooling equipment. The EGIC helped the plant mitigate an estimated $62,000 US in asset replacement costs.

Mitigated
$62,000 US
Asset Replacement Cost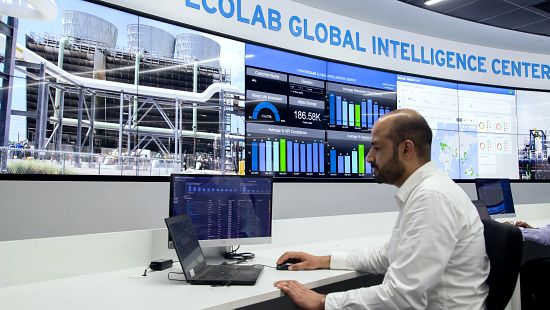 Related Success Stories
This is a carousel. Use Next and Previous buttons to navigate, or jump to a slide with the slide dots.
No related success stories were found.