Ecolab's Rodent Ceiling Service Helps Reduce Risks Posed by Rodents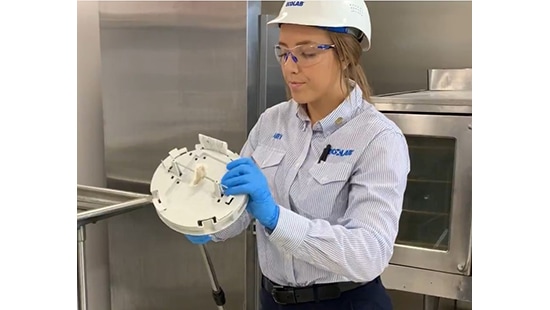 Ecolab's Rodent Ceiling Service
New solution recognized with a 2020 Kitchen Innovation Award from the National Restaurant Association
ST. PAUL, Minn.--(BUSINESS WIRE)-- Ecolab Inc., the global leader in water, hygiene and infection prevention solutions and services, has launched the Ecolab Pest Elimination Rodent Ceiling Service, which provides additional monitoring and protection within hard-to-access ceiling areas.
Rodents are an increasing threat to food safety and brand reputation throughout the supply chain. According to the U.S. Centers for Disease Control and Prevention (CDC), rodents can contaminate food and food surfaces and transmit more than 35 diseases to humans.
"Our data shows that 40% of restaurants with rodent activity will likely have rodents in the ceiling," said Julie Marquardt, vice president of Research, Development & Engineering for Ecolab Pest Elimination. "This has often been difficult to detect and control, but our new approach to ceiling monitoring helps enable us to quickly identify and resolve rodent activity and protect public health."
The discreet design of the patent-pending Rodent Ceiling Service equipment, and its strategic placement by highly trained Ecolab service specialists, will go unnoticed by guests. The integrated mouse, rat or bait traps are customized to the particular needs and requirements of the customer, and Ecolab data from customer locations has shown a 3x faster reduction of interior rodent activity within a facility.
The Rodent Ceiling Service is an extension of Ecolab Pest Elimination's outside-in approach and was recently recognized with a 2020 Kitchen Innovation Award, the gold standard of foodservice equipment innovations, from the National Restaurant Association. The Rodent Ceiling Service was noted as a cutting-edge innovation which benefits foodservice operators by reducing the risk of costly shut-downs and protects brands from the threat posed by rodent activity.
The Rodent Ceiling Service is another way that Ecolab Pest Elimination is helping customers take a proactive approach to monitoring hard-to-access locations and address issues before they become a problem. "We are continually developing innovative ways to help protect our customers against the threats that pests pose to food safety and their business reputation," added Marquardt.
For more information on Ecolab Pest Elimination's Rodent Ceiling Service, visit ecolab.com.
About Ecolab
A trusted partner at nearly three million commercial customer locations, Ecolab (ECL) is the global leader in water, hygiene and infection prevention solutions and services. With annual sales of $13 billion and more than 45,000 associates, Ecolab delivers comprehensive solutions, data-driven insights and personalized service to advance food safety, maintain clean and safe environments, optimize water and energy use, and improve operational efficiencies and sustainability for customers in the food, healthcare, hospitality and industrial markets in more than 170 countries around the world. www.ecolab.com
Follow us on Twitter @ecolab, Facebook at facebook.com/ecolab, LinkedIn at Ecolab or Instagram at Ecolab Inc.
(ECL-P)
View source version on businesswire.com: https://www.businesswire.com/news/home/20200623005109/en/
Roman Blahoski
+1 651 233 7298
MediaRelations@Ecolab.com
Source: Ecolab Inc.