How the Pandemic Accelerated Innovation at the Ecolab Global Intelligence Center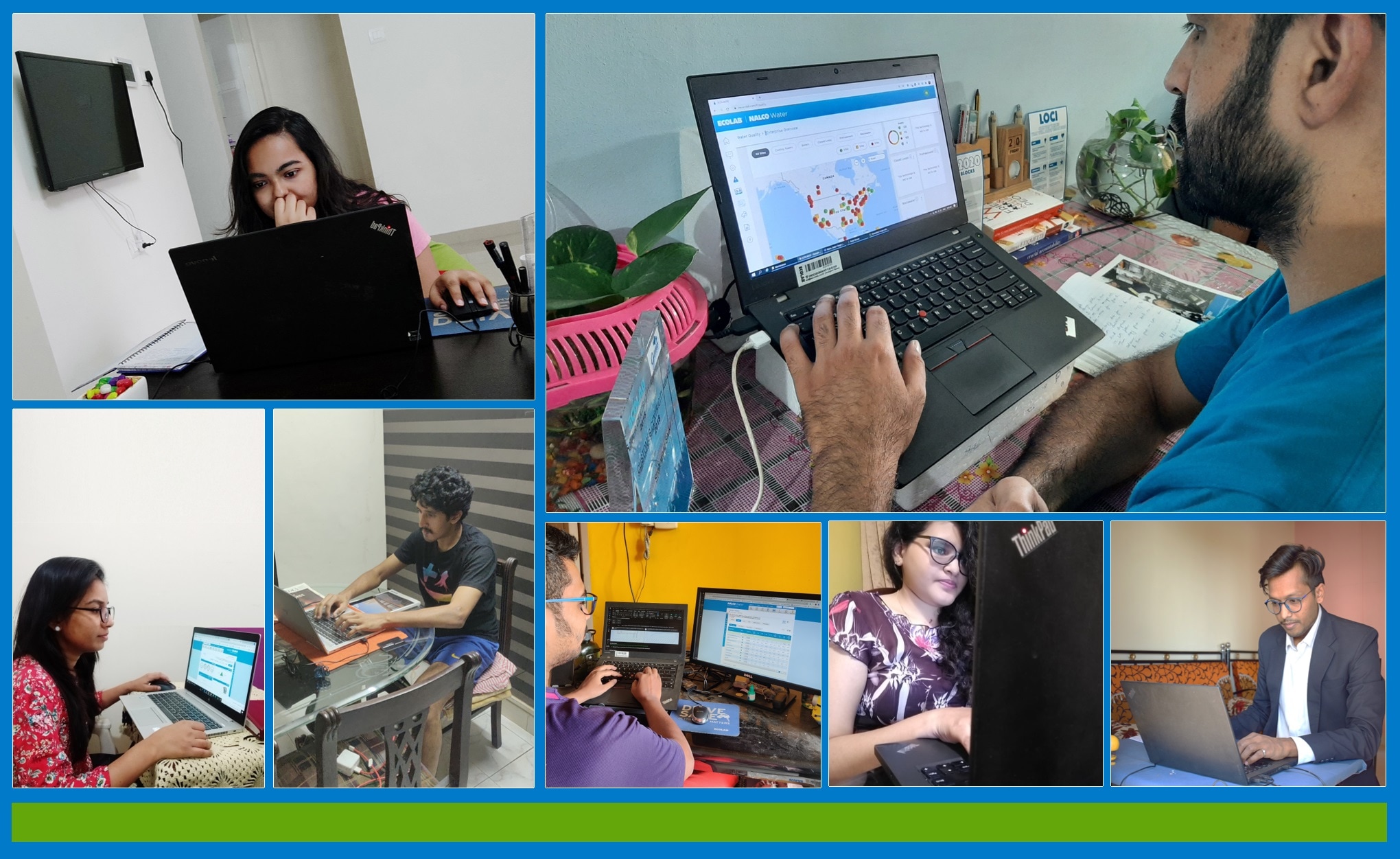 During the COVID-19 pandemic, Ecolab's Global Intelligence Center engineers are working from home.
At Ecolab's data-crunching nerve center in Pune, India, the COVID-19 pandemic has spurred a leap forward. The world will return to a new normal, but for the engineers who developed artificial intelligence-driven innovations while working remotely, there's no way back.
With its long rows of workstations facing oversized wall screens, the Ecolab Global Intelligence Center (EGIC) somewhat resembles popular images of NASA's famous Mission Control. Here, dozens of whip-smart, ambitious young engineers are working to push forward technology that is changing the world.
Ecolab isn't going to the Moon any time soon, but right here on Earth it is helping companies around the globe save hundreds of billions of gallons of water and lower their energy use and carbon emissions, while boosting efficiency and profitability.
Every year, the EGIC handles more than five terabytes of data, mostly from Ecolab's 3D TRASAR™ smart water management technology, which measures and regulates water quality and usage at tens of thousands of customer locations around the world. That amount is growing every year, and so is the EGIC.
Right now, however, the workstations are unmanned, the wall screens have gone black and the control room sits empty. When COVID-19 hit India early in the year, companies in Pune were ordered to send their people home, and so to this day, the EGIC engineers are logging on remotely from their home offices, living rooms and kitchen tables.
But customers haven't noticed a thing. In fact, service has improved even though the workload is up by 20-30%. While industrial sites and other large corporate water users had to reduce the number of personnel manning their sites, practice social distancing and close their doors to external visitors, the EGIC's engineers kept advancing the capabilities of technology.
"For example, we'll get requests from our reps to remotely change the configuration on a 3D TRASAR controller (i.e., the "brain" of a 3D TRASAR system that runs its operations and connects it with Ecolab's network)," said Marketing Director Deeraj Kumar, who leads the facility. "Normally that would be done on-site, but our field staff can't travel as much, and actually we can do it 10-15 times faster from the EGIC."
Through a combination of artificial intelligence and human ingenuity, the team came up with a suite of new applications that ensured operational stability for customers during the pandemic. They did it without missing a minute of service and ended up with a better product overall. It's the equivalent of tuning up a race car while you're driving it down the speedway. Here's how and why it happened:
1. The EGIC already knew how to handle enormous amounts of data
With reduced staffing, many customers are leaning on Ecolab's remote monitoring capabilities more than ever, but even without the pandemic-related surge, the EGIC's numbers are mind boggling. The team handles 27,000 systems in 125 countries, 365 days per year, 24 hours a day. Every year, 2 million system alarms come in, more than 100,000 critical system upsets are averted and 2,600 solution-focused phone calls are made. Average response times are below 15 minutes.
When the EGIC got its start in 2007, it employed 10 engineers to monitor 200 systems around the world. Today, the team has 156 engineers. Growth in the number of systems monitored has quickly outpaced new hires.
The team can shoulder that growth rate thanks to the sophisticated automation and efficiency improvement tools built by the EGIC's own engineers, said Kumar. "We have increased the efficiency of EGIC engineers by a factor of 10. That's why we can scale up exponentially."
2. The EGIC planned meticulously for work from home
When COVID-19 hit, the EGIC was ready. "We knew the lockdown was coming and we started planning a month in advance," said Kumar. "We piloted the move with a small group, so we knew what to expect."
When it turned out that 60% of the team didn't have enough internet connectivity at home, they were supplied with faster service. Since being away from office phone lines also made it hard to contact Ecolab's field reps around the world, two associates per team were set up with international dialing on their mobile phones, ensuring smooth service to each customer.


---
"Just like other parts of the company, our team is responding to the COVID-19 crisis in real-time. Our engineers are doing cutting-edge work and taking our remote service capabilities to a whole new level."
Mike Cerilli
Vice President of Digital Marketing Solutions, Industrial

3. Remote monitoring became essential
"Just like other parts of the company, our team is responding to the COVID-19 crisis in real-time," said Mike Cerilli, Ecolab's vice president of Digital Marketing Solutions, Industrial, who oversees the EGIC. "It's 'Respond, Rethink, Retool, Reimagine.' Our engineers are doing cutting-edge work and taking our remote service capabilities to a whole new level."
One newly built app remotely identifies fixes when a 3D TRASAR controller malfunctions. Another detects controllers that have stopped sending data back and either restores connectivity automatically or seeks human intervention.
The latter is important, because a controller that stops communicating can't alert anyone when things go awry. Keeping 3D TRASAR units online can prevent costly production interruptions and equipment breakdowns. It's a lesson that many companies know will also give them a competitive edge in the post-pandemic world.
4. Customers and field staff wanted faster solutions
Thanks to the new apps, the number of times field staffers have to provide on-site fixes has fallen significantly. In March-October 2020 period alone, the EGIC detected 9,354 incidents and resolved 74% remotely, saving an estimated 11,000 hours of travel time.
That enables the company to deliver on its promises despite the pandemic, but it's also the way things will look going forward, said Kumar. "With this technology, the team at the EGIC can help save money and travel time, so that our field teams are able to solve bigger problems for the customer. Ultimately, that will help us serve them better."
5. Scope Continues to Expand
When the EGIC got its start, its remit was limited 3D TRASAR for Cooling Water technology. In subsequent years, other 3D TRASAR functionalities were added and the Pune team's scope broadened beyond Ecolab's Nalco Water division.
Since 2016, the EGIC has added most of the other Ecolab businesses to its portfolio. Today, it keeps tabs on a growing list of Ecolab's smart technologies, including SMARTPOWER dishmachines and clean-in-place systems that, among other applications, ensure sanitation at food and beverage plants. In the next year, the EGIC is set to add Ecolab's Textile Care and Healthcare divisions, as well as EcoSure, which specializes in data-driven health and hygiene training.
"It took us 15 years to get to 27,000 controllers monitored," said Kumar. "Now, we have plans to monitor 100,000 connected Ecolab devices by 2022".