Ecolab Contributes More Than $23 Million to Communities In 2020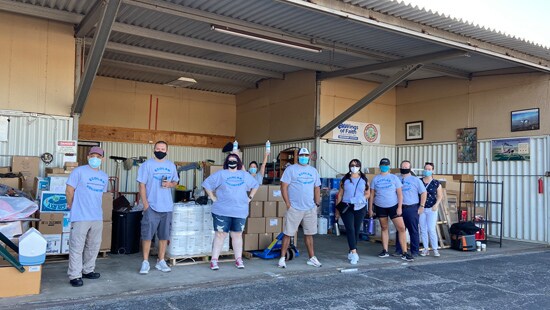 Company responded to increased need for cleaning and sanitizing products with $11 million of product donations and $2 million to nonprofits to support pandemic relief and racial and social justice initiatives
ST. PAUL, Minn.--(BUSINESS WIRE)-- In 2020, Ecolab Inc., the global leader in water, hygiene and infection prevention solutions and services, continued its long-standing commitment to supporting communities through more than $23 million in contributions, including more than $11 million of cleaning, sanitizing and public health products to help the fight against COVID-19. The company also provided increased financial support to nonprofits focused on pandemic relief, racial and social justice, and the recovery of the hospitality industry.
"In 2020, we saw increased need for our cleaning and sanitizing product donations and financial support due to the public health and financial hardships caused by the pandemic," said Kris Taylor, vice president of Ecolab Global Community Relations. "We are fortunate that we were able to provide this support, and incredibly thankful to our colleagues and nonprofit partners for their efforts to help our communities in this year of great challenges for the world."
Ecolab and Ecolab Foundation Grants
For more than 35 years, the Ecolab Foundation has supported the communities where Ecolab associates live and work. In 2020, cash grants of more than $9 million were provided, including $5 million in grant funding for organizations, including the United Way, that provided COVID-19 relief and supported basic needs and job training, as well as more than $3 million to organizations focused on early childhood education, college access programs, science, technology, engineering and math (STEM) programs, and arts and environment organizations.
In-Kind Product Donations
In partnership with relief organizations World Emergency Relief and Global Citizen USA, Ecolab donated more than $11 million of cleaning and sanitizing products to communities in 16 countries throughout the world, including Canada, Chile, Columbia, Ghana, Greece, Italy, New Zealand, Sierra Leone, South Africa, Uruguay and the U.S.
"World Emergency Relief is incredibly grateful for Ecolab's long-term support of our programs," said Kristy Scott, CEO of World Emergency Relief. "Our partnership has spanned 25+ years, but our work together has never been more important than it is now. Our collaborative COVID-19 response reached individual households, first responders, nonprofit organizations and small businesses with essential cleaning and disinfecting supplies to help fight the spread of the virus."
Industry Support
Ecolab continued its long-standing support for the restaurant and hospitality industry, supporting pandemic recovery efforts through expanded partnerships with key industry organizations, including the National Restaurant Association, the American Hotel & Lodging Association, the Asian American Hotel Owner's Association and the World Travel & Tourism Council, and a new partnership with the U.S. Travel Association.
Much of the support provided by Ecolab focused on helping restaurant and hospitality employees respond to the financial impact of the pandemic. Building on a decades-long partnership with the National Restaurant Association, Ecolab made a significant investment in the association's Restaurant Revival Campaign, aimed at bolstering the industry's recovery and demonstrate ongoing commitment to the health and safety of employees and guests. Ecolab also supported the Restaurant Employee Relief Fund, which provided financial assistance to U.S. restaurant workers, and the National Restaurant Association Educational Foundation's "Change is on The Menu" campaign, which is dedicated to providing restaurant workers training, education and financial support to advance their careers.
Employee Giving and Volunteerism
Volunteerism is a core component of Ecolab's culture. Despite the challenges faced in 2020, Ecolab employees generously supported charities in their communities by volunteering more than 74,000 hours, a value of over $2 million.* In addition, employees also gave more than $3 million in contributions to nonprofit organizations around the world through the company's Community Giving Program. The Ecolab Foundation matched these employee donations with an additional $500,000.
Ecolab employees also supported those in need by creating care packages, organizing products for donation and coordinating socially distanced volunteer events. As an example, Corporate Accounts Vice President Ashley Pridon and her team organized care baskets with cleaning supplies and other essential items in high demand at the onset of the pandemic for families with children at the Ronald McDonald House Charities. "The worst times often bring out the best in people – and that was evident in our team's eagerness to volunteer their time and energy," said Pridon.
For more information about Ecolab's community giving initiatives and the Ecolab Foundation, visit the Community Involvement section of Ecolab.com.
*Calculated using average values determined by Independent Sector.
About Ecolab
A trusted partner at nearly three million customer locations, Ecolab (ECL) is the global leader in water, hygiene and infection prevention solutions and services that protect people and vital resources. With annual sales of $12 billion and 44,000 associates, Ecolab delivers comprehensive solutions, data-driven insights and personalized service to advance food safety, maintain clean and safe environments, optimize water and energy use, and improve operational efficiencies and sustainability for customers in the food, healthcare, hospitality and industrial markets in more than 170 countries around the world. www.ecolab.com
Follow us on LinkedIn @Ecolab, Twitter @Ecolab, Instagram @Ecolab_Inc and Facebook @Ecolab.
(ECL-C)
View source version on businesswire.com: https://www.businesswire.com/news/home/20210301005126/en/
Shannon Forsythe
651-250-4724
MediaRelations@Ecolab.com
Source: Ecolab Inc.