Message from Ecolab CEO Christophe Beck: Thoughts on Derek Chauvin Verdict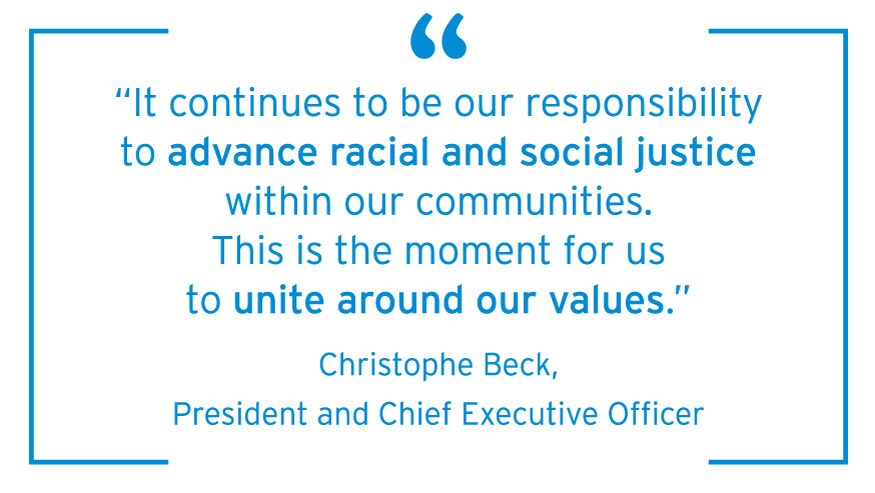 Ecolab CEO Christophe Beck shared this message with all Ecolab associates globally shortly after the Derek Chauvin verdict was announced.

Today former Minneapolis police officer Derek Chauvin was convicted on all three charges in the murder of George Floyd, who was killed last May.
While the trial has concluded, the pain that we feel over the death of Mr. Floyd – and the deaths of many other Black Americans – remains. I hope that the trial's conclusion will bring some closure for Mr. Floyd's family and friends, and for all of us who were shocked and saddened by his death.
But the underlying issues of racism laid bare by Mr. Floyd's death are still in front of us. Moving our society forward requires focused and consistent effort on many fronts. We can honor Mr. Floyd's memory by continuing to work for racial and social justice.
Inside Ecolab, we've continuously accelerated our efforts to ensure we are a place where all people are welcome, respected and can thrive. We've set goals and are increasing racial and gender diversity, we've ensured equitable and competitive pay, and we've embedded diversity, equity and inclusion principles in all manager training. We've had double-digit growth in our employee resource groups, which tells me that our associates find support and a sense of belonging from each other. And our two Days of Understanding have helped us all listen and learn.
As a leadership team, we've been actively involved in the wide range of initiatives that the Minneapolis/St. Paul business community has launched to advance racial equity, including police and public safety reform, expanded access to affordable housing, early childhood education funding and reducing health disparities. Ecolab leaders also are working on policy, philanthropy and workplace initiatives through the Minnesota Business Coalition for Racial Equity. We believe that the work of the business community in Minneapolis/St. Paul will have national and international impact, given the global spotlight that has been on our community.
This work will continue, collaboratively and within our company. To drive more economic inclusion within our communities, we're working to increase our spend with minority-owned and diverse suppliers throughout our supply chain. And we continue to support organizations dedicated to advancing racial and social justice, through our Foundation giving and our volunteer programs.
This has been a painful time for all of us, and it's more important than ever that we live our values and support and care for ourselves and one another. I personally found How to be an Ally to be a great guide for having meaningful conversations with colleagues – it provides excellent advice on the leadership capabilities we all need to develop in ourselves. For U.S. associates, our Employee Assistance Program (EAP) is available to all associates and their families at no cost and our U.S. Be Well Resource Center has many helpful resources for self-care. For assistance with resources and support outside of the U.S., please contact your HR Business Partner.
The jury has made its decision on the charges against Derek Chauvin. It continues to be our responsibility to advance racial and social justice within our communities. This is the moment for us to unite around our values: we do what's right, what's fair and what's honest. We work together with diverse perspectives and we make a difference. That means we must keep talking, learning and seeking to understand – and keep working toward a better world for everyone.
Christophe