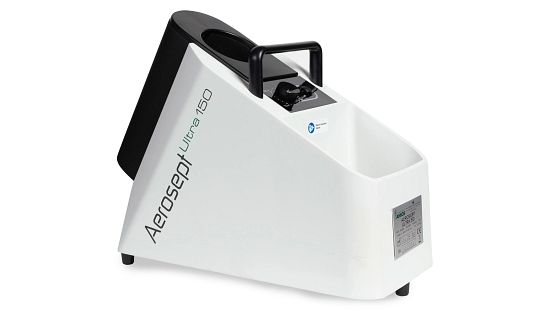 Aerosept Ultra 150

Airborne disinfection device

Automatic atomiser for airborne disinfection of previously cleaned surfaces.
Product Details
New patented process: ultrasonic atomiser technology without an air compressor
Treats rooms from 30 to 150m3
2 operating modes:

Manual for access to essential information
Connected with Android and iOS tablet or smartphone control for access to all recorded data

Easy to use and maintain
Practical, ergonomic and portable
Process compliant with NF T72-281 (2014)
Application
Automatic atomiser for airborne disinfection of previously cleaned surfaces.
Use with: ASEPTANIOS AD
Bactericide and yeasticide in 30 min
Mycobactericide in 45 min.
Virucide, fungicide and sporicide in 60 min
Conditions of use: 7ml/m3, 20°C
Instructions for use*
Position the device (equipped with its disinfectant container) in a corner of the room to be treated about 1m from the walls (security perimeter). The spray gun should be pointed towards the centre of the room, with no obstructions in front of the device or across the entire trajectory of the spray
Switch on the device (manually or via the app)
Select the volume of the room to be treated and press the start/stop button
Delayed start settings allow the operator to leave the room before the treatment begins
The device will automatically stop at the end of the program
Ventilate the room (nine air changes)
* Refer to the operating and technical manual for the full process.
Technical characteristics
Chemical capacity: 2L can
Nominal flow-rate: approx. 0.7L/hour
Empty weight: 9kg
Dimensions: 400mm H x 200mm L x 500mm W
Power supply: 100-240 V – 50/60 Hz – 32W
Storage
The products used in this device are dangerous - observe the precautions on the label of the product.
Storage of product: between +5°C and +25°C in vertical position.
Use biocides safely.
---
For professional use only.
---
Please read label and product information before use.
---