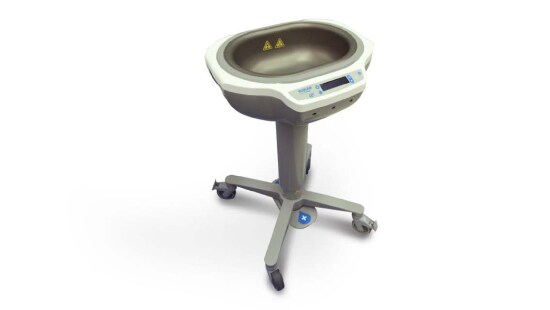 CoreTemp™

Fluid Management System

Fluid management is medical intervention to achieve the right balance and condition of fluids to keep patients safe and stable.1
Current practices to manage irrigation fluids are often manual, subjective and error-prone. Fluid warming and fluid volume tracking are key.2
1. Trinooson, Crystal D., CRNA, MS & Michele E. Gold, CRNA, PhD. Impact of Goal-Directed Perioperative Fluid
Management in High-Risk Surgical Procedures: A Literature Review. AANA Journal • October 2013 • Vol. 81, No. 52.
2. A. Lopez-Picado, Pharm. Determination of Perioperative Blood Loss: Accuracy or Approximation?
International Anesthesia Research Society. July 2017 • Vol 125 • No. 1
Product Details
Fast fluid warming
Warms 1 liter of fluid from room temperature to body temperature in less than 10 minutes and features push-button control of the desired fluid temperature up to 49ºC.
Automated fluid volume tracking
The basin acts as a weight scale and is smart enough to monitor and display basin fluid volumes in real-time.
Simple drop-and-go drape
Drape is form-fitted to match the basin shape to simplify and speed the draping process.
Height adjustment
The system quickly adjusts from 91 to 122 cm to easily align with back table heights or nurse preferences.
Built-in patient and user safety
The smart system will not heat until the unit is draped and has fluid in the basin, while controlling a known temperature.
Smart and intuitive controls
An interactive control panel guides the user with step-by-step simplicity and displays fluid volume and temperature.
Fluid should be warm
As an active warming intervention to maintain patient normothermia, fluid should be warm and maintained at a known, safe temperature.
Fluid volume should be tracked
Tracking irrigation fluid volumes and accurately monitoring blood loss during invasive surgeries is essential for surgical teams to know how and when to intervene to keep patients safe and stable and avoid complications.
Managing fluid should be simple
To elevate and maintain a high standard of care for all patients undergoing invasive surgery, it must be easy for every nurse to consistently and accurately manage irrigation fluids.
FOR PROFESSIONAL USE ONLY.

Learn more about our related offerings: