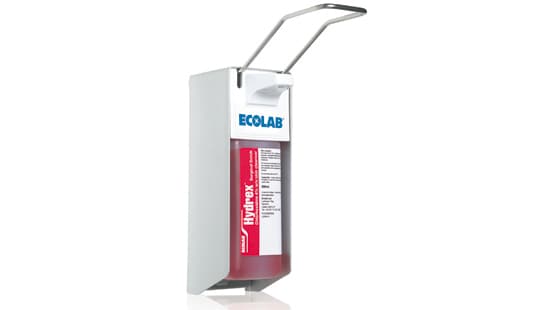 Dispensers and Accessories
Our hand hygiene range comes with a choice of product dispensers to suit a wide variety of locations and environments around the hospital, helping to improve compliance.
Product Details
Touchless Dispenser – Easy to install dispenser helping to lower cross contamination. Battery operated.
Bottle holder - A wall mountable holder for use at all points of patient care. A bed-end hook attachment is also available for this holder, giving greater flexibility to areas of potential use.
Pouch dispenser - Fully lockable, tamper-proof pouch dispenser suitable for use in public areas.
Dermados Dispenser – Elbow operated dispenser that ensures minimal risk of cross contamination, with no potential of manual soiling when used correctly.
Autoclavable Elbow  Operated  Dispenser -  Available in stainless steel and robust plastic. Autoclavable pump. Suitable for Operation Theaters; for use with hand scrubs and rubs.
Wire Frame Elbow Operated Dispenser - Wall mountable surgical dispenser with metal frame for surgical scrubs and rubs.
Product Size
Part Number
Dermados S Elbow Operated Wall Dispenser 500ml
700024

Touchless Dispenser

500ml

10012743

Elbow Operated Pump Dispenser Fram

500ml

408412

Touchless Dispenser with Lock Plate

500ml

899102

Ecolab Pouch Dispenser

800ml

700090

Autoclavable Elbow Operated Dispenser

500ml

899105

Box of 20 Blue Bottle Holders Combi Pack

500ml

401512
Box of 20 Hook Attachment for Bottle Holder
401513

Bottle Holders for Seraman Foam

1l

700093