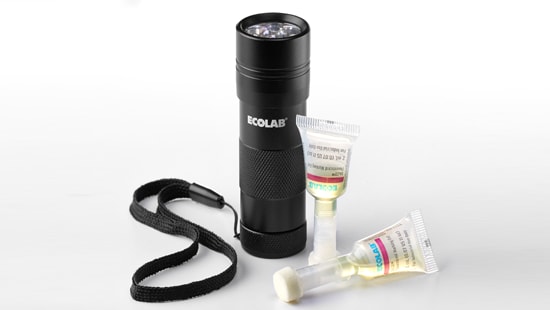 DAZO® Fluorescent Marking Gel
Ecolab's patented DAZO® Fluorescent Marking Gel works with UV Flashlights to provide quick, objective measurement of cleaning thoroughness.
Product Details
Apply clear marker to high-touch surfaces and assess with a black light after cleaning
Provides objective feedback on high-touch surface cleaning
Simple, effective training tool provides immediate feedback to cleaning staff
One applicator per room eliminates risk of cross-contamination
Most widely studied objective monitoring method for improving cleaning outcomes
*DAZO® is a registered trademark of Kleancheck Systems LLC and is licensed exclusively to Ecolab for use in healthcare and institutional facilities.
Ask your Ecolab Account Executive for more information about ordering DAZO applicators and black lights.
Solution Information