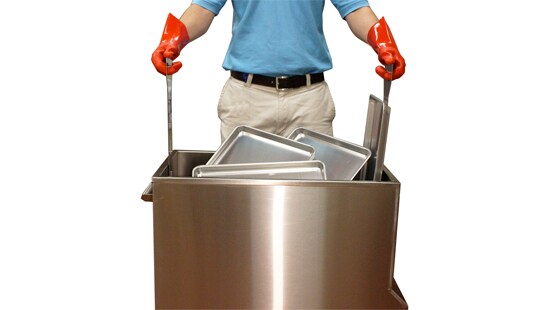 Heated Soak Tank Program
Carbonized soils are challenging to clean. With the Heated Soak Tank and KAY QSR Heated Soak Tank Concentrate for carbon and soil removal, soak away stubborn soils without labor-intensive scrubbing or harsh, caustic chemicals. The rolling 40-gallon stainless steel tank is compact, and can often fit conveniently under countertops or prep tables.
KAY® QSR Heated Soak Tank Concentrate
Aluminum Safe
Change every 30 days
No PPE*
No odor, no residue
Heated Soak Tank
Stainless steel, basket-in-tank design
40 gallon tank sized to fit under counter
Applications:
Sheet pans, hood filters, pizza pans, oven racks, grill racks, amber pans and more.
Soak Time Recommendations:
Carbonized Pans ............... Up to 3 days
Soiled Pans ........................ 24 hours
Plastic Wares ..................... 1 hour
* Heat resistant gloves are recommended for handling wares
soaked in the tank.
Click below or call 800-529-5458 for more information.