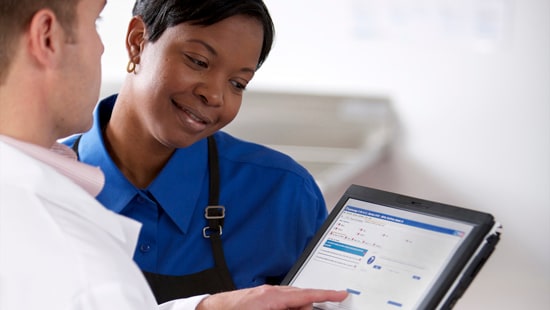 KAY® Value Visits
Our ServSafe-certified field associates conduct in-store Value Visits to complete in-depth training on food safety, cleaning and sanitation, customer-specific SOPs and OSHA compliance. During each visit, our associates will:
• Consult with store managers and employees
• Review and improve operational efficiencies
• Identify opportunities to improve overall cleanliness
• Provide a report summary and detailed corrective action plan
We Help Managers See the Restaurant Through the Eyes of their Customer.
Our ServSafe-certified field associates conduct in-store Value Visits to complete in-depth training on food safety, cleaning and sanitation, customer-specific SOPs and OSHA compliance. They consult with store managers and employees to review and improve operational efficiencies, as we identify opportunities to improve a restaurant's overall cleanliness.
At the end of the visit, a summary report is provided to the restaurant manager, and if required, a detailed corrective action plan is also made available. In addition, new Ecolab product solutions and innovations are discussed.
Other services our field associates perform include:
Product and equipment training
Dispenser equipment calibration
Product inventory control
Seasonal cleaning initiatives