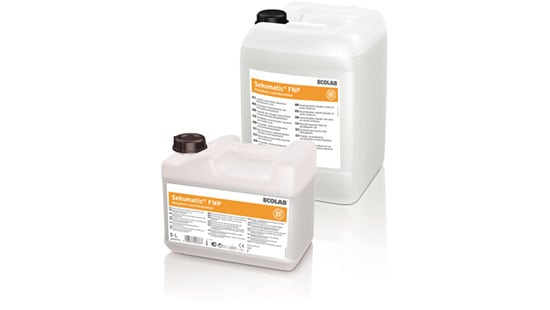 Sekumatic™ FNP
Phosphoric acid based fluid neutralizer after an alkaline cleaning. Surfactant-free. Also suitable for acidic pre- and basic cleaning of surgical instruments as well as for plastic implements and elastomers. Not suitable for nonferrous metals and anodized aluminum.
Product Details
Also suitable for pre- treatment of surgical instruments as well as for plastic implements and elastomers.
Economical dosing
Effective neutralization
Universally usable
Our performance
Your advantage
Formulation containing phosphoric acid
Secure neutralization after alkaline cleaning. Prevents chalk and acid-soluble soiling.
Can also be used for thorough cleaning in immersion bath.
Efficient formulation
High efficacy with low dosing
Optimally matched formulation components
Broad user spectrum for acid-resistant materials from the medical area
For cleaning and disinfection devices in the medical area, can be used with 1-3ml/l at all degrees of water hardness.
For neutralizing alkaline residues from the first rinsing step after the alkaline cleaning. Normally, a dosing of 1ml/l is sufficient; higher doses should only be used in exceptional cases, after consultation with instruments and machine manufacturers.
The Sekumatic™ FNP solution must be completely rinsed off in every process after the action.
Composition
Phosphoric acid solution; surfactant-free
Use (after commencement)
Shelf life

 

In container

 

until the printed expiration date
1
Please note the following to ensure the correct storage of environmental hygiene and instrument disinfectants: The original containers (canisters, buckets or bottles) with the disinfectant concentrate (or powder) should be stored at temperatures below 25°C and kept dry and clean. A brief period below or above the given storage temperature (e.g. during transport) will not diminish the effectiveness.
The containers are to be sealed tightly after each use. Please also take care that the concentrate remaining in the container is not contaminated when preparing the application solution.
Chemical- physical data
Density
20 °C
1.45 g / ml
pH value* (concentrate)
20 °C
<>
pH-range* (solution, 1 ml / L in DI-water)
20 °C
2.3 – 2
Conductivity (solution, 1 ml / L in DI-water)
20 °C
2.2 – 4.6 mS / cm
* pH-value measurements under operating conditions always by using pH-meter with temperature compensation
Neutralizer for cleaning and disinfection devices


See Other Products for Disinfection and Cleaning of Your Instruments
Please see below related offerings:
This is a carousel. Use Next and Previous buttons to navigate, or jump to a slide with the slide dots.