IoShield®
Breathable and highly effective protective Shield for teat disinfection after milking.
Ecolab's IoShield builds a visible and breathable protective film that cares for the teat after each milking.
Hypoallergenic properties make the teat skin soft and supple
Ensures high quality milk
Cares for the skin and avoids irritations due to cold or dry weather
Effective disinfection based on PVP-iodine
Product Details
PREMIUM FEATURES
IoShield® is a PVP-iodine-based protective Shield® for the disinfection of the teats after milking. PVP-iodine ensures an effective disinfection.
The active polymerizing Shield® ensures an optimal balance between resistance and elasticity for a pleasant feeling and for an easy cleaning. IoShield® adheres perfectly to the teat surface until the next milking, avoiding the penetration of pathogenic germs and dirt.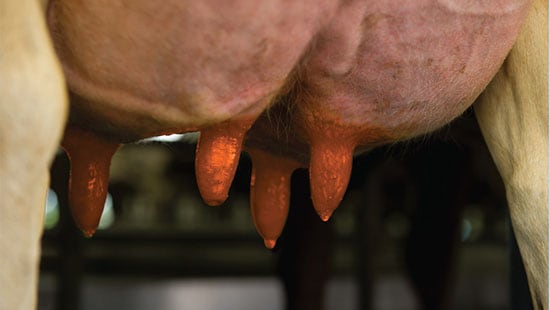 BENEFITS
IoShield® offers a reliable protection against germs and dirt between milkings. Usage is safe and effective regardless of weather and environmental conditions. IoShield® allows an optimized consumption due to the excellent adhesion. IoShield® fits perfectly into a control program against the pathogens responsible for udder infections and mastitis.
| Package Size | Product Code | Palletization |
| --- | --- | --- |
| 10 kg | 2288660 | 60 units |
| 20 kg | 2267840 | 24 units |
| 60 kg | 2334800 | 8 units |
| 210 kg | 2267920 | 4 units |
| 1000 kg | 2268020 | N/A |
Not all packages are available in all countries. Please check with your local Ecolab sales representative to confirm availability.
Related Products
This is a carousel. Use Next and Previous buttons to navigate, or jump to a slide with the slide dots.