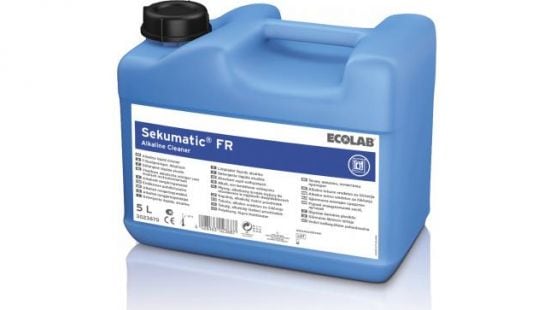 Sekumatic™ FR
High-alkaline cleaner providing excellent cleaning efficacy with good material compatibility.
Product Details
Ideal for instruments which tolerate alkaline and acid media, for instruments with a variety of surfaces and for complex instruments which are difficult to clean like: surgical instruments (scalpels, scissors, etc.), instruments for minimal invasive surgery, plastic, etc.
Ideal for all kinds of anesthesia materials which can be reprocessed through  thermal or chemo-thermal disinfection
Excellent cleaning performance even in difficult-to-reach places with powerful dirt dissolving solution
Due to high alkalinity during washing cycle a neutralization step with an adequate chemical is mandatory.
Dosage 3 to 5ml/L in daily use.
Product Size
Part Number

Sekumatic™ FR

3x 5l

3023670

Sekumatic™ FR

1x 20l

3023480
Cleaner for medical devices


See Other Products for Disinfection and Cleaning of Your Instruments
Please see below related offerings: