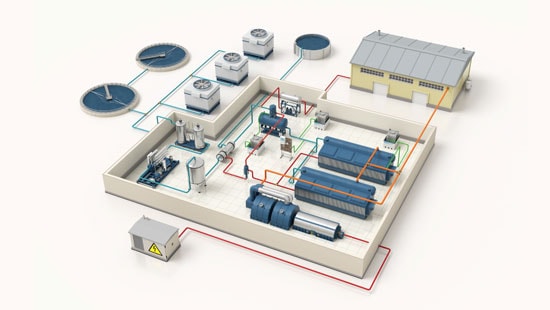 Boiler Water Treatment
Over 85 years of diverse industry experience, our commitment to develop innovative boiler water treatment technologies continues today. Boiler water chemical treatment coupled with 3D TRASAR™ technology provides comprehensive boiler water treatment solution mitigating scale and corrosion of the boiler system. Remote monitoring by the Ecolab Global Intelligence Center further allows you to focus on profitability of your operations. Connect today with our sales engineers and improve operations of your boiler system.
Our Boiler Water Treatment Approach
Nalco Water has helped thousands of customers globally with their boiler systems through automation, service, specialty chemistries, and equipment, to drive overall reduction of total cost of operation. We focus on customers in institutional, manufacturing, food & beverage, power generation, chemical, primary metals, paper, and mining. Our experience with firetube and water tube boilers optimization has led to millions of gallons in water savings and asset protection.
Benefits to Using Our Boiler Water Treatment Program:
Safe reliable steam that avoids disruption to your production
Water and energy savings that directly minimize your total cost of operation
Extends asset life to avoid costly down time and unplanned capital expenditures
Real-time system knowledge with instantaneous response to reduce maintenance and increases labor efficiency
Boiler Water Chemicals, Programs, Products, Equipment and Services
Explore our treatment offerings related to boiler and boiler chemical treatment management and maintenance.
We couldn't find any results for "".

Boiler Water Treatment Success Stories
This is a carousel. Use Next and Previous buttons to navigate, or jump to a slide with the slide dots.
No Boiler Water Treatment Stories Were Found