Microelectronics company saves more than just data
with Nalco Water
Background
For more than 15 years, a leading manufacturer of data storage equipment has worked with Nalco Water to continuously improve the operation of their climate control systems. The customer applies a consistent climate management strategy across their facilities throughout the eastern and northeastern United States, with four primary goals:

Reduce emissions from operations
Reduce emissions in supply chain
Reduce energy demand in customers' IT infrastructures
Reduce global energy demand
The customer's working relationship with Nalco Water centers on three areas: water savings, energy savings and sustainability.
Solution
To address the three key areas identified between Nalco Water and the customer, three innovations were implemented: 3D TRASAR™ Technology for Cooling Water, COIL-FLO coil cleaning program and a silica removal process.
One facility, supplied by well water, struggled with water that contained high levels of calcium and magnesium. Over time, the hardness of the well water increased, which can limit cycles of concentration and elevate scale potential in the customer's cooling water systems. To help improve water quality, Nalco Water recommended softening the water and implementing 3D TRASAR automation, which allows for monitoring and control, connected chemistry and 24/7 expert remote monitoring. The 3D TRASAR for Cooling Water program helps the customer avoid out-of-spec scenarios on a continuous basis, reduce water consumption and minimize the risk of poor performance.
Air handlers are prone to efficiency-robbing fouling and dirt, and the cleanliness of the coils has a direct impact on the efficiency of the heat-exchange process. Nalco Water's COIL-FLO process was implemented to clean air handler coils.
Due to poor control of inhibitor feed, heavy silica deposits impeded efficient heat transfer at two of the customer's sites. This contributed to energy inefficiencies and corrosion of the equipment. To remove the deposits, Nalco Water developed an efficient and cost-effective silica removal process that's less hazardous than traditional methods and nearly non-corrosive, saving energy over time and eliminating the need for costly equipment replacements.
Results
Blowdown from the cooling towers has been reduced, saving 7,000,000 gallons of water annually and saving the customer an estimated $61,000 per year in sewage discharge costs.
Between the cooling water and air handling systems, greenhouse gas emissions have been reduced by more than 3,369 tons to date. The customer is also saving 5,170,979 kWh/year in energy (valued at $371,000 annually) and has avoided $55,000 in condenser bundle replacement costs.
Taken together, the Nalco Water programs delivered $459,000 in total value to this customer.
Conclusion
Nalco Water implemented several technologies to impact water savings, energy savings and sustainability for this customer. Measuring and capturing data while making advances in water treatment and air handler cleaning can generate tremendous savings in water, energy and greenhouse gas emissions. Through advanced monitoring and swift, targeted response to out-of-spec conditions, risk is minimized and performance assured. Water


7 million gallons

In water savings per year

Energy


5,170,979 kWh

Reduced energy consumption per year

Greenhouse
Gases
3,369 tons

Reduced CO2 emissions per year

Assets


USD $55,000

Avoided equipment replacement costs

Total Value Delivered:
USD $459,000 per year
3D TRASAR™ Technology for Cooling Water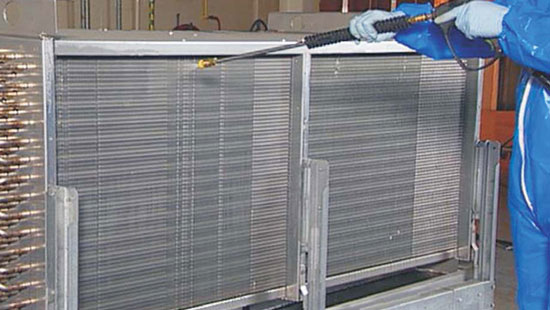 COIL-FLO Coil Cleaning Program
This is a carousel. Use Next and Previous buttons to navigate, or jump to a slide with the slide dots.
No related success stories were found.