Preventing Water Loss with Rapid Response from the Ecolab Global Intelligence Center
Background
Cooling towers work by evaporating some of the circulating cooling water so it can be recycled. However, this process concentrates minerals, and requires a portion of the concentrated water to be discharged in order to prevent excessive scale build-up. This combination of evaporation and discharge depletes the volume of recirculating water, and requires freshwater (or make-up water) to be replenished. The flow of this make-up water is controlled by a valve in the make-up water line.
Insight
A chemical processing plant installed
3D TRASAR™ technology
to help monitor their cooling tower operations. The 3D TRASAR™ controller was monitored remotely by the
Ecolab Global Intelligence Center
(EGIC). Early one evening, the EGIC received a low conductivity alarm from the system. Upon further review, an EGIC engineer verified that the cooling tower was steadily losing water circulation.
Innovation
The EGIC engineer recognized that there was an issue, and contacted the local sales and service team immediately. A local service representative contacted the plant operator and asked them to check the blow-down and make-up valves to see if they were stuck. When the operator checked the valves, he found the tower basin overflowing due to a stuck make-up water valve. He corrected the problem, and the system stopped overflowing and returned to normal levels.
Impact
After the incident, the team estimated that the cooling tower was overflowing at a rate of 55 gallons per minute (gpm). The plant was not scheduled to conduct a system review for at least 12 hours after they were notified. As a result, the EGIC was able to help the plant avoid losing nearly 40,000 gallons (151 cubic meters) of treated water and avoid approximately $12,000 US in replenishment costs.

Saved
40,000 Gallons
of Treated Water
Avoided
$12,000 US
to Replenish Treated Water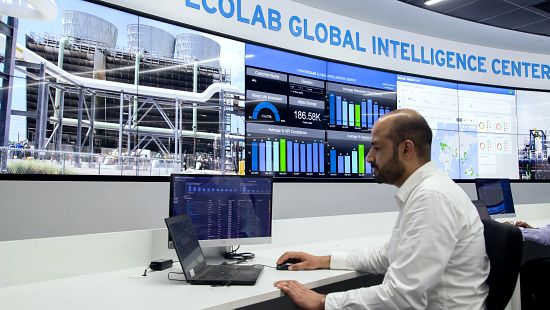 Related Success Stories
This is a carousel. Use Next and Previous buttons to navigate, or jump to a slide with the slide dots.
No related success stories were found.