W Istanbul: Undeniable Style in Istanbul City Center
Introduction
W Hotels is a luxury hotel chain owned by Marriott International Inc.
Set in a restored 19th century building in the Beşiktaş district, W Istanbul offers guests a unique access to the lively city center of Old Istanbul. The hotel is a mix of vibrant colors, bold design elements and gilded accents that transcend quests to a beautiful world of old-world charm and comfortable modernity.
Opened in April 2008, W Istanbul boasts 140 rooms, has two outlets; W Lounge and W secret Garden. W Istanbul seems to be a permanent guest-recommended choice for its elegant character, quality service and strategic location in a bustling Istanbul quarter.
For a property of such caliber, having a knowledgeable and experienced business partner is key to maintaining the highest standards of service and quality. And for this W Istanbul has turned to Ecolab, a global leader back in 2008. Together with Ecolab, W Istanbul has been able to maximize operational efficiency through enhancing cleanliness, food safety and efficient use of resources.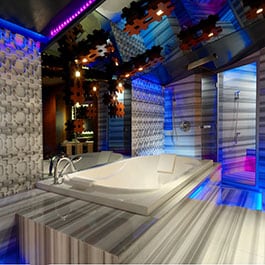 Solution
Ecolab's team of experts have been serving the W hotel Istanbul for 11 years now; supporting the property to achieve their targets in several areas such as their restaurant kitchens and housekeeping departments, implementing solutions to meet the hotel's service targets and help to deliver an excellent customer experience.
Among these solutions is the SMARTPOWER™ program. Recognizing that warewashing is a critical factor in kitchen and restaurant operations, the SMARTPOWER program was implemented to establish automatic monitoring for warewashing metrics. SMARTPOWER is a complete program that combines innovative chemistry with smart technology, utilizing actionable insights to control critical factors such as water temperature and detergent concentration, saving both on manual labor and utilities costs, directly resulting in lowest total cost of operations.
To ensure best results, Ecolab also provides training which is a key component of the offering. Ecolab partners receive on-site training to ensure products and solutions are utilized as per standards to achieve optimal results.
Results
Hotel operators and Ecolab field experts have worked closely to identify challenges, assess current processes and identify the right products and solutions to boost operation efficiency and lower total cost of operations. W Hotel and Ecolab have had a successful partnership, ultimately delivering continuously high standards, providing guests with memorable and safe experiences. Furthermore, the property has been achieving significant savings in water, and energy while reducing labor costs.
Implementing the SMARTPOWER program allowed W Hotels to achieve key operational and sustainable improvements, recording:
17% rack reduction resulting from less rewash
reduced water consumption of 550,000 liters annually, equivalent to the drinking water needs of over 2,000 people for one year
significant energy savings of 11,000 kWh, equivalent to around one million charged smartphones
15,200 labor hours saved annually, allowing employees to be assigned to different projects
Deploying the innovative SMARTPOWER automatic monitoring program has allowed the team to receive and take more than 50 corrective actions in one year, resulting in significant system performance improvements. This means that the system is monitored 24/7/365 and is not prone to sudden shutdowns. All issues are immediately and proactively identified and addressed ensuring worry-free nights and weekends for property staff.
The collaborative partnership between Ecolab and W Istanbul has resulted in world-class innovation integrated into the hotel's daily operations, allowing W Istanbul to achieve significant sustainability results, aligning with the hotel's vision for superior quality of service and sustainable growth.
Related Stories
Visitors who viewed this story also viewed
This is a carousel. Use Next and Previous buttons to navigate, or jump to a slide with the slide dots.