Accelerating Sustainable Growth with Kraft Heinz
$12.2M Total Value Delivered
Insights
The Kraft Heinz Company is one of the largest food and beverage companies in the world. Its Vision to "Sustainably Grow by Delighting More Consumers Globally" includes a commitment to responsible, sustainable practices in every facet of its operations.

Kraft Heinz has prioritized projects across its global manufacturing network in the areas of water conservation, energy use and greenhouse gas emissions (GHG), waste reduction and packaging. It has pledged to achieve net zero carbon by 2050 and to get halfway there by 2030. In 2020, the company set ambitious manufacturing targets for 2025. Kraft Heinz aims to decrease water use intensity by 20% in high-risk watershed areas and by 15% across its manufacturing facilities, and to decrease energy use intensity by 15% and waste to landfill intensity by 20% across its manufacturing facilities.
Actions
Kraft Heinz and Ecolab are partnering closely to help achieve these ambitious goals. Together, the companies have adopted a comprehensive approach to sustainability that includes hundreds of projects at manufacturing sites across North America — aimed at reducing the company's water and emissions footprint, ensuring product quality, compliance and improving operational efficiency.
Through water reuse, cleaning efficiency and optimization projects, Ecolab worked with Kraft Heinz to conserve millions of gallons of water. These efforts have helped ensure that Kraft Heinz has sufficient water for its operations, while reducing its intake of local freshwater.
3D TRASAR™ Technology has played a major role in boosting water and energy efficiency in critical utility systems while its Clean in Place (CIP) program has helped optimize cleaning efficiency to improve cleaning turnaround time and increase production. In addition, Ecolab and Kraft Heinz are working closely to conduct Total Plant Assessment (TPA) audits, which provide a holistic, end-to-end review of a Kraft Heinz facility's water and energy use followed by recommendations for mitigating water and energy use. This enables Ecolab and Kraft Heinz to continuously identify and drive operational and environmental improvement projects. Four TPAs were conducted in 2021 at Kraft Heinz manufacturing sites.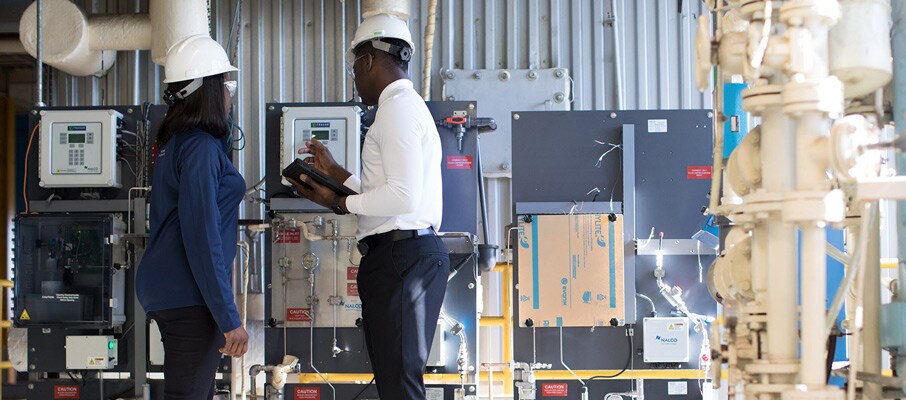 Outcomes
As a result of these initiatives, Kraft Heinz has achieved substantial water and energy use reduction and financial savings, as well as reduced greenhouse gas emissions and greatly enhanced productivity and efficiency at its North American manufacturing facilities. The partnership demonstrates the organizations' shared values, empowering sustainable outcomes as we work together for a healthier world.

Featured Solutions
Learn More About 3D TRASAR™ Technology
This is a carousel. Use Next and Previous buttons to navigate, or jump to a slide with the slide dots.
No related success stories were found.