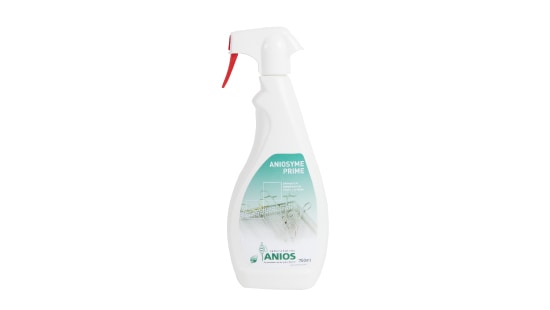 Aniosyme Prime
Pre-treatment disinfectant detergent foam for medical and surgical instruments.
Product Details
Formulation combining two patented concepts of efficiency
Prevents soil from drying
Antimicrobial efficacy from 15 min
Dense foam: instruments are covered evenly
Wide compatibility
Application area
Pre-treatment of surgical instrumentation in foam: during a dry mode of transport or during storage of soiled instruments before machine or manual washing.
Maintains an adequate level of humidity to avoid blood and other organic materials drying.
Instructions for use
Ready-to-use solution.
Beforehand, spray the bottom of the soaking tray with Aniosyme Prime and place instruments collected.
Re-cover all the instruments with foam. Minimum contact time in the system: 15 minutes. For tuberculocidal activity, allow 30 minutes contact time.
Cover the tray with the lid.
Thoroughly rinse treated medical devices with tap water to remove all traces of product and organic soiling before machine or manual cleaning.
Not suitable for instruments made of zinc or iron.
Ingredients
Quaternary ammonium carbonate, non-ionic surfactants, enzymatic complex (protease, lipase, amylase), sequestering agents, excipients.
Storage
Dangerous – respect the precautions for use (drawn up according to the European rules in force regarding the classification and labelling of chemical products).
Storage: between +5°C and +35°C.
Microbiological properties
CLAIM/CONDITIONS
CONTACT TIME
Bactericidal
According to EN 13727 and EN 14561, dirty conditions
15 min
Yeasticidal
According to EN 13624 and EN 14562, dirty conditions
15 min
Tuberculocidal
According to EN 14348 and EN 14563, dirty conditions
30 min
Mycobactericidal
According to EN 14348 and EN 14563, dirty conditions
60 min
Effective against enveloped viruses
According to EN 14476 / EN 17111, dirty conditions
15 min
Medical device.
---
Please read label and product information.
---
For professional use only.
---

0459
See Other Products for Disinfection and Cleaning of Your Instruments
This is a carousel. Use Next and Previous buttons to navigate, or jump to a slide with the slide dots.