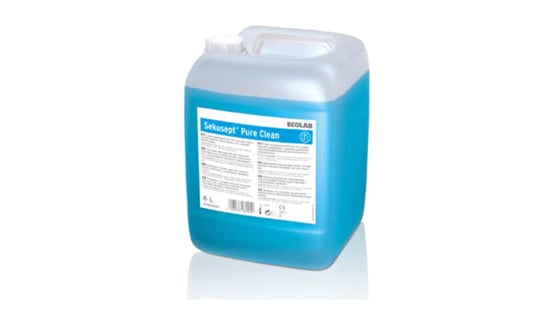 Sekusept™ Pure Clean
Manual pre-cleaning of medical devices including flexible endoscopes
Cleaning of medical instruments and endoscopes is a pre-condition for an effective disinfection.
Sekusept Pure Clean, with its combination of ingredients, helps to avoid re-cleaning of instruments soiled with all common contaminants found in the medical area (e.g. blood, proteins, serum).
Product Details
Sekusept Pure Clean is also:
Fast acting
Thorough cleaning
Cost efficient with low in-use concentration
| PRODUCT | PACKAGING UNIT | ORDER CODE |
| --- | --- | --- |
| Sekusept PureClean Dosing bottle with measuring cup | 4 x 2 L | TBC |
| Sekusept PureClean Can | 1 x 6 L | TBC |
For more information please refer to the product label/SDS.
For professional use only.
Medical device.
Please read label and product information.