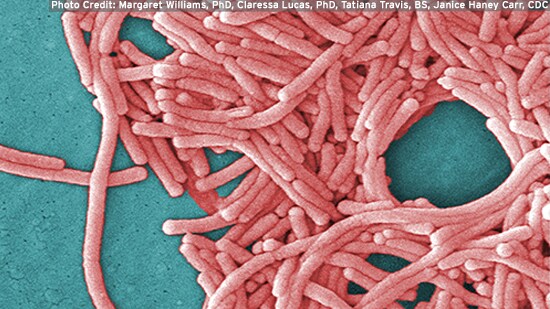 Legionnaires' disease (Legionella pneumophila)
As part of our company-wide commitment to making your business - and the world - cleaner, safer and healthier, Ecolab will work with you to find solutions that help solve your water safety and contamination issues.
WHAT IS LEGIONNAIRES' DISEASE?
Legionella pneumophila is a bacterium that can cause a disease known as legionellosis or Legionnaires' disease (LD). LD was first recognized in the late 1970's following an outbreak of pneumonia (lung infection) in people attending an American Legion conference in Philadelphia, PA. In this outbreak, more than 200 people were sickened and 34 died. Although all Legionella species are considered potentially pathogenic for humans, Legionella pneumophila is responsible for most reported cases of LD. Each year an estimated 8,000 to 18,000 people are hospitalized in the US.1 Fatality rates between 5% and 30% have been reported.1
The annual number of cases of LD in the US increased significantly between 2002 and 2009. The US national incidence rate increased from 0.5 cases per 100,000 population to about 1.2 cases per 100,000 persons between 2002 and 2009.2 The US Centers for Disease Control and Prevention acknowledges that this increase may be attributable to a true increase in diseases transmission, greater use of diagnostic testing, and increased reporting. Most European countries report cases of LD, however, interpretation and comparison of surveillance data from different countries can be problematic because of differences in case definitions, types of surveillance system and the types of data collected. In 2004, national rates of legionallosis in Germany, France, Belgium and Scotland were 0.48, 1.9, 1.56 and 0.63 cases per 100,000 population respectively.3
WHAT ARE THE SYMPTOMS?
Two primary forms of the infection exist - a mild respiratory illness known as Pontiac fever and LD, a more severe form producing high fever and pneumonia. Most people exposed to the bacteria do not become ill. According to the CDC, people most at risk of getting sick from the bacteria are 50 years of age or older, current or former smokers, those who have a chronic lung disease (like emphysema), people who have weak immune system from diseases like cancer, diabetes, or kidney failure or people who take drugs to suppress the immune system.4

HOW IS IT TRANSMITTED?
Leigonella pneumophila is a part of normal flora of freshwater habitats, but typically at low levels insufficient to cause disease. It is the organism's association with warm water and aerosols in cooling water, spas, showers that increases the likelihood of infection.
Susceptible individuals become infected when they breathe in a mist or vapor (small droplets of water in the air) that has been contaminated with L. pneumophila. The infection is not spread from person to person. Legionella grow best in warm water, in places like hot tubs, spas, cooling towers, hot water tanks, large plumbing systems, or parts of the air-conditioning systems of large buildings. These systems can provide the three conditions needed for Legionella transmission, i.e. heat, static conditions and aerosolization.
Epidemiologists1 have shown an association of outbreaks with;
Breathing in aerosolized water from a whirlpool spa that has not been properly cleaned and disinfected.
Aerosols of water sources in the community or occupational settings or with cruise ships and hotels, from whirlpool spas, cooling towers and water used for bathing.
Hospital buildings having complex water systems. Many people in hospitals already have illnesses that increase their risk for Legionella infection.
HOW IS IT CONTROLLED?
As part of our company-wide commitment to make your business - and the world - cleaner, safer, healthier, Ecolab and Nalco will work with you to find solutions that help solve contamination issues. Control programs fall into six broad categories, regardless of the water source that presents a potential risk. They are system design, system operation, preventative maintenance, scheduled cleaning, use of registered biocides and recommended water storage temperatures. Ecolab can also provide procedures and protocols for your facilities management program.
REFERENCES AND FURTHER INFORMATION
1CSC 2011 - Top 10 Things Every Clinician Needs to Know About Legionellosis
2CSC 2011 - MMRW May 13th - Summary of Notifiable Diseases - US 2009
3WHO 2007 - Legionella and the Prevention of Legionellosis
4CSC 2011 - Patient Facts: Learn More about Legionnaires' disease