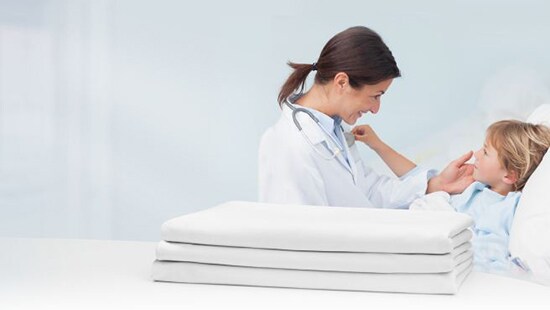 Healthcare Laundry
Ecolab Textile Care experts create and deliver value through the powerful combination of personal service, chemistry, equipment, information and process expertise to deliver the lowest total cost. Drawing on Ecolab's broad healthcare knowledge and experience, we provide healthcare laundry solutions to help healthcare providers ensure patient safety.
The Right Partner in Healthcare Laundry Solutions
Your healthcare customers want to do everything they can to protect their patients. Preventing healthcare-associated infections is essential to the success of any healthcare organization. And with so many pathogen sources present in healthcare settings, patients can only be protected when every mode of transmission is addressed.
Healthcare Laundry Personal Service and Specialized Support
Dedicated on-site service provided by the industry's largest team of healthcare experts.
The strength of a team of scientists, engineers and industry specialists with deep technical knowledge, experience and in-lab analytics to solve your toughest challenges.
From water and energy optimization to wastewater compliance solutions, we can help reinvent the way you manage resources so you can do more with less.
Revolutionary Cleaning, Sanitizing and Disinfecting Solutions
High-performing, sustainable healthcare laundry products that clean right the first time. We deliver the highest quality results in clean healthcare and hospital laundry and linens available today.
In-depth Tunnel Washer Expertise
Drawing on Ecolab's broad healthcare knowledge and experience to create smarter laundry solutions, we help our healthcare customers manage more tunnels than anyone else in the industry. Our unique diagnostic toolbox enables our highly trained Tunnel Doctors to perform detailed diagnostics for quick and accurate resolution. We service more tunnels than anyone – and help you get the most from yours.
Accurate, Reliable Dispensing
Our innovative dispensers save time and money by delivering even small doses accurately. Enhanced dosing reliability by delivering proof of flow to ensure chemistry reaches the washer, means you can count on us for solutions that integrate effortlessly into your existing laundry system and provide exceptional results.
With Ecolab as your partner, you are assured a Clean Plant.
When everything coming into contact with your just-washed linens has been carefully sanitized and disinfected, your hospital and healthcare laundry can stay that way too. Ecolab has a variety of products to sanitize and disinfect your plant and prevent cross contamination of clean linen. From cart washing and floor cleaners, to germicidal wipes, surface treatments, employee hand hygiene and more.
When you partner with Ecolab, you can tell your healthcare customers that you're disinfecting your entire operation to help them reduce their risk of healthcare acquired infections – and give them the reassurance that they're doing everything they can to protect their patients.
We know that taking care of your customers is your top priority – and that makes it ours too. Ask your Ecolab representative for more information about how we can help you grow your business with healthcare customers.
Water & Energy Saving Solutions
For Healthcare Laundries
This is a carousel. Use Next and Previous buttons to navigate, or jump to a slide with the slide dots.
No related equipment pages were found.